New Releases
Tiesto Club Life Podcast 364 – First Hour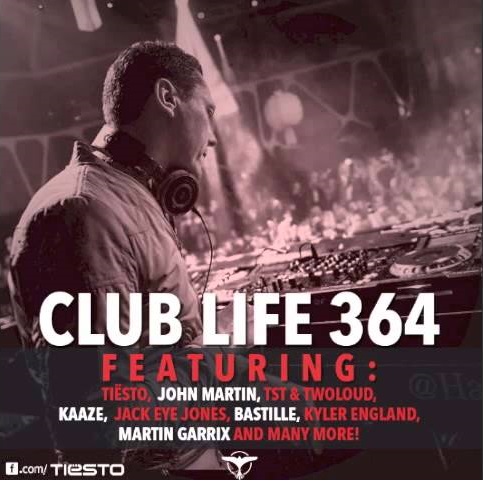 If you were wondering why Tiesto is one of my favorite producers, then you must have not been following his weekly podcasts like I have been for the past two years. This week's Tiesto Club Life includes remixes and songs from Bastille, John Martin, twoloud and more.
Tiesto introduces his 364th episode of Club Life with a Fred Falke Remix of his very own hit "Red Lights" which he then transitions into Arty, Matisse & Sadko's "Riot."
One of my favorite songs which was recently released is TST and twoloud's "Drop It Like This," which Tiesto transitions into next. This song is literally make you want to drop it like – whatever "this" is! I can totally picture myself getting down to this song during Tiesto's set at Ultra Music Festival.
Axwell's discovery, also known for his collaborations with Swedish House Mafia, John Martin asked Tiesto to release his brand new single, "Anywhere For You," which Tiësto remixed with Dzeko & Torres in this weeks Club Life. Ever since Swedish House Mafia's "Don't You Worry Child" came out, I have always been a huge fan of John Martin's vocals. His voice lures me in and takes me back into a lush past energized filled memory of euphoria, back to when I first heard SHM drop DYWC live at Madison Square Garden, so when I came across his remix by Tiesto, Dzeko & Torres, I knew it was going to be another heart-warming feeling song. There is no other producer besides that I would have picked to remix this!
Tiesto then introduces Calippo's "Back There," which he then morphs into Plastic Honey's "Can U Feel The Gecko," followed by a Pier Poropat & Monte Karlo Remix of Tiesto's very own "Take Me" featuring Kyler England.
The next song is 3LAU's "Big Bang," a spin on the classic "you and me baby ain't nothing but mammals so lets do it like they do on the discovery channel," which you cant help but laugh at the lyrics. 3LAU's drop is so heavy you forget how absurd the lyrics are.
I saw Audien back in January at Create in Hollywood, and his remix to Bastille's "Pompeii" is another one of my favorite songs – I love that Tiesto dropped this in this weeks Club Life. Audien is an amazing producer, and his remix of Bastille's latest hit – not to mention they are performing at Governor's Ball this year – he turned it on its head.
The rest of his set includes exclusive new tracks such as: Kaaze & Michael Feiner's "We Will Recover," his own remix to Jack Eye Jones' "Playground," and Martin Garrix's "Proxy."
This week's Club Life is definitely one of my favorites, unless the talented Tiesto's sets just keep getting better and better – I don't know how that is even possible! I hope you enjoy this set as much as I do!
Tiesto Club Life Podcast 364 – First Hour
[soundcloud url="https://api.soundcloud.com/tracks/141886493″ params="auto_play=false&hide_related=false&visual=true" width="100%" height="450″ iframe="true" /]
Listen here: smarturl.it/CLpodcast-364
Subscribe now: smarturl.it/clublifepodcast
001 Tiësto – Red Lights (Fred Falke Remix)
002 Arty, Matisse & Sadko – Riot
003 TST vs. twoloud – Drop It Like This
004 John Martin – Anywhere For You (Tiësto vs. Dzeko & Torres Remix)
005 Calippo – Back There (Original Mix)
006 Plastic Honey – Can U Feel The Gecko
007 Tiësto ft. Kyler England – Take Me (Pier Poropat & Monte Karlo Remix)
008 3LAU – Big Bang (Tiësto Bootleg)
009 Bastille – Pompeii (Audien Remix)
010 Kaaze & Michael Feiner – We Will Recover
011 Jack Eye Jones – Playground (Tiësto Remix)
012 Martin Garrix – Proxy
Tiesto