New Releases
Tiësto's Club Life Podcast 361 – First Hour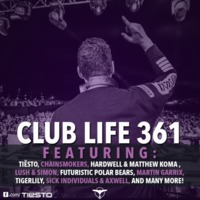 In this week's Clublife, Tiesto dives right into it with a remix of Swedish House Mafia's "Leave The World Behind" by Lune. Although nothing gets much better than the original version, this one is pretty dope. The soft vocals twinkle over the slow rising beat into a raging drop.
Following this song Tiesto drops his remix with twoloud of Hardwell's "Dare You," followed by a remix called "Closer Eyes," featuring Tegan & Sara, Sultan & Ned Shepard and Kaskade, which is a remix of Tegan & Sara's "Closer" and Kaskade's "Eyes." I had never heard this song before so I knew it was going to be a good one since those are two of my favorite songs.
Tiesto also drops the mesmerizing song "Ahead Of Us" by Tom Swoon and Lush & Simon, followed by "Back to Earth" by Futuristic Polar Bears, Tiesto's twoloud remix of "Red Lights," HIX vs. Pearl Jam "Alarma Man (Sgt Slick & Vice Edit)," Sick Individuals & Axwell feat. Taylr Renee "I Am (Deorro Remix)," DVBBS & VINAI "Raveology," The Chainsmokers infamous "#selfie," and closed with "Helicopter" by Martin Garrix & Firebeatz.
I tune into Tiesto's Clublife weekly and this podcast of his is absolutely one of my top favorites. If you need new music, check this podcast out! Tiesto's set features a bunch of amazing new songs that you will for sure download instantly. Enjoy!
 Tiësto's Club Life Podcast 361
[soundcloud url="https://api.soundcloud.com/tracks/138389456″ params="auto_play=false&hide_related=false&visual=true" width="100%" height="450″ iframe="true" /]
Tiësto's Club Life Podcast 361 Tracklist:
001 Lune – Leave The World Behind (Ludovika Bootleg)
002 Hardwell feat. Matthew Koma – Dare You (Tiësto vs. twoloud Remix)
003 Tegan & Sara, Sultan & Ned Shepard, Kaskade – Closer Eyes (Stereoschock Official Edit)
004 Tom Swoon, Lush & Simon – Ahead Of Us (Original Mix)
005 Tigerlily & 2Less ft. KA$H – Faith (Tigerlily 3am Club Mix)
006 Futuristic Polar Bears – Back To Earth
007 Tiësto – Red Lights (twoloud Remix)
008 HIX vs. Pearl Jam – Alarma Man (Sgt Slick & Vice Edit)
009 Sick Individuals & Axwell feat. Taylr Renee – I Am (Deorro Remix)
010 DVBBS & VINAI – Raveology
011 Chainsmokers – #Selfie (Club Mix Clean)
012 Martin Garrix & Firebeatz – Helicopter (Original Mix)