Travel
5 Mistakes Visitors Make on Their First Trip to Nha Trang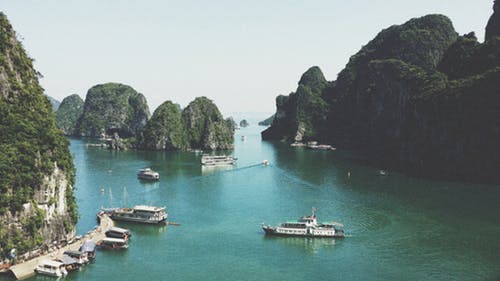 As one of Vietnam's most popular tourist destinations, the coastal city of Nha Trang sees thousands of visitors each year. Its fine sand beaches and numerous attractions make it the perfect venue for a relaxing weekend vacation or an exciting extended holiday, especially for individuals who are traveling to the country for the first time.
Make your getaway planning more convenient by booking a Nha Trang travel combo with Traveloka! But before you go, watch out for these common mistakes first-timers often make on their first visit to this paradise by the sea.
Forgetting the sunscreen
Vietnam is a country that is frequently subject to heat waves and high UV index ratings. Just because you're going to a coastal city that benefits from a steady supply of balmy ocean breezes doesn't mean that you should underestimate the power of the sun. You can burn even when it's cloudy and cool!
Extended sun exposure without ample protection, as you may very well know, can lead to wrinkles, freckles, painful sunburns, and even skin cancer. As such, make sure to pack a bottle of sunscreen in your bag along with your sunglasses. One that has an SPF 50 and PA++++ ratings should do, and making sure that it's a sweatproof and waterproof variant can't hurt either. Experts recommend applying sunscreen at least 45 minutes before you head out to allow the product to settle on your skin.
Additionally, you may also want to look into packing a sun hat or a foldable umbrella—one that can block the sun's UV rays—for added protection.
Packing the wrong type of clothes
You're headed to the beach, which means you should break out the summer staples, right? While it's definitely a good idea to tailor your holiday wardrobe to Nha Trang's tropical climate, do consider adding some items to layer up with. After all, you could go out into warm sunshine but find yourself in the middle of an intense downpour an hour later.
Aside from having something to protect yourself with when the weather turns, carrying a light layer can make it easier for you to cover up and gain admission into certain attractions. These include temples and other places of worship where the custodians enforce a strict dress code.  Indeed, if visiting a pagoda is on your itinerary, you can make sure that you won't be turned away at the door by having something to cover your limbs with. You can always take that cardigan or shawl off after you've left the premises.
We recommend that you take with you hot weather tops made with lightweight fabrics, or quick-dry shirts if you plan on doing anything active or strenuous, such as hiking or bike riding. You can top it up with a long-sleeved casual button down or a cardigan. Also bring at least one pair of long pants with you. We can't recommend heavy denim due to how humid it can get, but cotton harem or jogger pants should serve you well. Keep that foldable umbrella handy for those sudden rain showers, too.
Being too confident on a motorbike
Motorcycles and scooters are a popular mode of transportation in Vietnam, and Nha Trang is no exception. Many tourists choose to rent 110cc motorbikes when they're out and about. Riding it is by far the most convenient way to see the sights in the city and to zip from location to location. If you do not have any prior riding experience, though, you are better off going with an alternative way to get around, such as hiring a cyclo driver. You can rent a motorcycle and a driver for a day who will take you to all the best spots around the city for the low price of just a little over US$15. However, be wary of scams and fraudsters, and always clarify the price before getting on. Go with your instinct and walk away if you sense danger.
But say you do have prior riding experience. Should that make you more confident renting a motorbike? Probably. But do remember that road conditions in Vietnam are likely very different from what you're used to, and they've left many a foreigner deeply confused. Signals and signs are often mere suggestions to the intrepid locals, and you could find yourself clipped by a fellow rider in a hurry, or suddenly facing oncoming traffic despite staying in your lane. It might seem like fun at first, but commandeering your own scooter will just be a migraine later. Download the Grab app instead, and use GrabBike to get around. It's much safer overall.
Spending too much
When you first arrive in Vietnam, you may be surprised to suddenly find yourself a millionaire. One (1) United States dollar is worth 23.2 Vietnamese dong (VND), which means that having at least 50 US dollars on your person makes you a millionaire. Try not to get all starry-eyed over all the zeroes, though. Food, beverages, and products in Nha Trang might be cheaper overall because of the lower cost of living in Vietnam, but try not to get ahead of yourself. These products naturally still cost thousands of dong, and if you're not too careful, you could find yourself penniless at the end of your trip.
Try to exercise caution when you pay for a good or service, and always clarify the price. Some unscrupulous vendors will pretend to be confused by the numbers 15 and 50, for example, in order to fleece you. Sometimes, stalls in the markets also won't have the prices for items posted visibly. If you are evidently foreign, you may be charged more for the same meal as a local. As a general rule, try to have a good sense of how much things cost before taking your wallet out. A simple search online should yield helpful results.
Falling prey to scams
Nha Trang is a relatively safe place to visit, but do exercise appropriate caution regardless. Pickpockets abound since this is a very tourist-friendly area. They often target easy to lift items such as wallets, high-end smartphones, and cameras. Always keep an eye on your valuables, or leave them in your room or the hotel safe for safekeeping. There are thieves that are brazen enough to snatch your phone right out of your hands as you're walking by or taking a selfie.
Common scams in Nha Trang include corrupt cops who will extort you for money to get back your rented motorcycle, cyclo drivers who overcharge or employ sleight of hand to switch your money out with a similar-looking bill, and the Nha Trang beach massage scam, where they ask you to pre-pay in full, then demand a 100% tip after the service. To motivate you into doing this, they can lock you in the massage room until you cough up the money.
Employing a bit of sense can go a long way, especially if it's your first time in Nha Trang. As long as you keep your wits about you, there's no reason why you won't have an amazing holiday. Enjoy your trip!