Business
4 Ways to Kickstart Your Business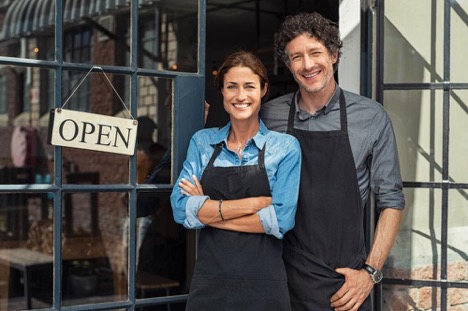 Running a small business can feel pretty static at times. Perhaps you're seeing the same customers every day, not seeing your bottom-line move, or just aren't seeing much growth in general. Whether you're a seasoned or new business owner, there are some easy tips you can use to kickstart your business.
In this post, we'll be exploring these 4 tips and more.
1. Hire the right team
Your staff is one of the most important elements of your business, and they have a lot to do with your success, so it's imperative that you attract and hire the best of the best. But it's much easier said than done. Here are a few guidelines to demystify the hiring process and help you make the best hiring decisions for your small business:
Write a great job description: Your job posting is the first impression prospective employees have with your organization, so you better make it count! To draft up a stellar job description, make sure that you hit these important points:
Advertise the primary job duties
Mention eligibility requirements
Highlight company culture and perks
Explain the application process
Leverage referrals: If you're lucky enough to have a team of great employees on your side, why not leverage your network and encourage them to refer their colleagues? You can even incentivize this by offering a referral bonus for any employees who refer a standout new hire.
Screen applicants: Once you've identified a great pool of applicants, you'll likely go through an interview process to get to know the candidates better.
This is the perfect time to learn about their experience, personality, working styles, etc., but you'll want to take this "get to know you" step a little further if you want to hire the best person for the job. A free identity check is a simple and stress-free solution to get the information you need, including, criminal records, identity verification, and employment history.
2. Reward loyal customers
One of the best benefits of running a small business is getting to see the same faces on a regular basis. These regulars are the basis of your success, and much of your growth depends on their continued support of your brand. So, why not reward them?
Setting up a customer rewards program is a super simple and effective way to pay back your most loyal fans. Your system can be as simple as a stamp card, or as integrated as a point of sale loyalty program. Whether you offer them a free coffee, discounted service, or a piece of merch, people love to save. And chances are, they'll share the deal with friends, too!
3. Prioritize reviews
Think about the last time you purchased something online or even in-store. Did you do some research to find the best deal? Did you hunt for product alternatives? What about customer reviews? The fact is, many buyers follow the same purchasing patterns these days, and reading through customer reviews is a common step in the process.
As a small business owner, it's in your best interest to make sure that the reviews you're getting are primarily positive and up to date. Of course, this starts internally. If you don't offer a good product or customer service, you're probably not going to get rave reviews. If you're experiencing any issues in these areas, or have had bad reviews in the past, it's important that you address them ASAP.
One way you can execute this sometimes overwhelming process is to subscribe to a review management platform. This allows you to request reviews from recent customers as well as monitor and respond to feedback from reviewers.
4. Establish an online presence
Social media is everything these days. The mediums are changing quickly, but it's apparent that small businesses and corporations alike need to establish an online presence in order to succeed. Before you tense up thinking about adding a new task to your to-do list, we have some good news. Many social media platforms allow you to schedule out posts to go out to your followers so you can get it all done in a day and monitor as needed. To make it even easier, you can use a social media management platform to monitor all of your profiles in one place! Connecting with your customers, breathing humanity into your brand, and sharing promotions are a few of the benefits of prioritizing your social presence.
Which of these tips are you excited to try out? Let us know what you think in the comment section below.