Concerts
We Saw: Ghost B.C.
Few things tug at my heart strings more than a mass chanting of lyrics like "six six six, receive the beast" by a sea of smelly men and women in black t-shirts. Seeing Ghost B.C. is a goddamn spectacle if I have ever seen one.
If you're not familiar, the singer, Papa Emeritus (speculated to be Tobias from Repugnant), is some sort of Pope of Satan, and his nameless ghouls wear plague doctor masks with long black robes to further enhance the ridiculousness.
ANYWAY, Ghost is a special blend of King Diamond and Blue Oyster Cult, in that, you can get people who metalheads non-metalheads alike sing songs about Satan, which is alright by me. With that pop element in mind, there was luckily no mosh pit, it was mostly hyper-spazztic people singing out of tune with Papa. I can attest to the overall vibe of the crowd which was likened to a hoard of eight-year-olds at a Hanson concert in the mid-1990's. Just, straight-up Disneyland-caliber giddiness, with devil horns and a lot of beards.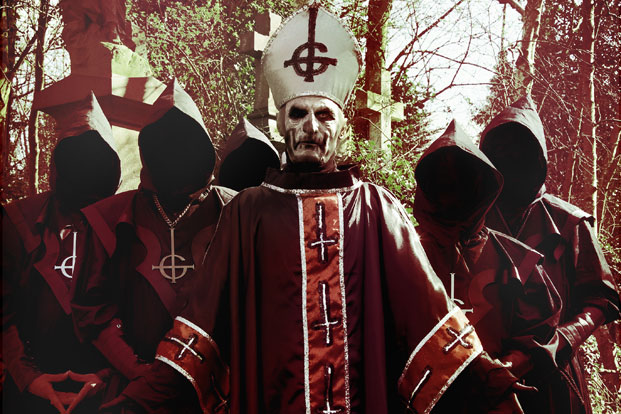 Before the show, a man stood behind me in a suit talking about his Christian beliefs and how he still listens to to bands like Ghost, which was…perplexing. A pope wearing inverted crucifixes isn't really what I consider a wholesome evening. Among the other varities at the show included part-time metal guys and gals, a few "I heard one song and they're cool" guys, indiscriminate music preference guys, crusty punx, cyber goths ruining everybody's lives, brainless thrash kids, and any variation on those scenes.
It was a little strange to see such a large array of people coming together, especially in a place like Tucson. Ghost mainly played the hits off their Opus Enonymous record, and sprinkled in a grip of new songs off Infestissumam. Songs like 'Ritual' and 'Death Knell' were obvious fan favorites, and what I consider, the more classic Ghost sound.
A lot of people give Papa Emeritus some flack over his sometimes wavering voice, but he sounded solid, and vocals were strong. The ghouls played flawlessly, even the keyboard solo on 'Genesis' did not have a note missing, definitely not a half-assed gimmick band, these dudes are super talented. I can't even imagine the balls that they smell like after playing in those masks and robes each night…much respect.