Concerts
HARD Summer Releases OWSLA Stage Lineup + Alex Metric Mixtape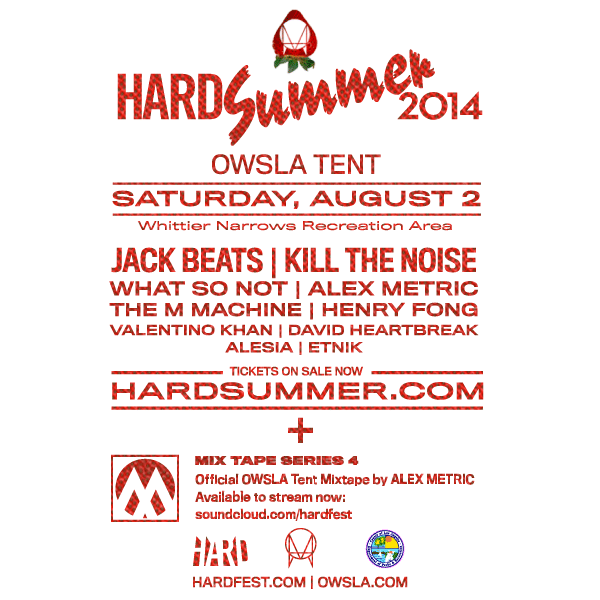 This morning, HARD Summer released a bit of news that will get festival-goers all giddy. OWSLA will take over one of the stages for this year event, and will include artists Jack Beats, Kill The Noise, What So Not, Alex Metric, The M Machine, Henry Fong, Valentino Khan, David Heartbreak, Alesia, and Etnik. Damn.
Not sure what the other stages will look like, but I for one think that the OWSLA Tent is worth the ticket price alone.
The good people at HARD also released an official OWSLA Tent Mixtape by none other than Alex Metric. 
Alex Metric Mixtape Jun 2014
[soundcloud url="https://api.soundcloud.com/tracks/152657768″ params="auto_play=false&hide_related=false&show_comments=true&show_user=true&show_reposts=false&visual=true" width="100%" height="450″ iframe="true" /]
TRACK LIST:
Alex Metric & Oliver – Galaxy
Tensnake – Love Sublime (Ewan Pearson Remix)
Appleblim – Silencio (Prins Thomas remix)
Soulphiction – Mind & Body
Duck Sauce – Chariots of the Gods (Alex Metric re edit)
Sonic Future – Bring it on
Riton – ??? (Aeroplane remix)
The Alexanders – Pwoin Pwoin Pwoin
DJ Wank – 106 miles away (Amine Edge Remix)
Little Dragon – Paris (TEED Remix)
Arveene & Misk – Don't Stop
Alex Metric & Oliver – Hope
London Grammar – Hey Now (Alex Metric Remix)
Klaxons – Love Frequency (Tom Rowlands Remix)
Alex Metric – Spiritism
Sam Smith – Stay With Me (Soul Clap Remix)
For more info on HARD Summer, check out their Facebook, Twitter, and Website.