Travel
Last-minute Easter holiday destinations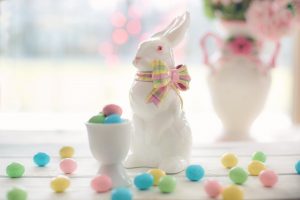 The spontaneity of an impromptu holiday is always a thrill, but with so many great options, how do you choose where to go? Whether you're looking for sun-soaked beaches or a cosmopolitan city escape this Easter, these top picks below will provide plenty of inspiration.
The classic Italian getaway
Italy is beautiful in April – there are fewer tourists and friendlier prices, and it's great for getting an early start on your summer tan. With its sophisticated beach scene and iconic cities, there's so much to discover on a classic Italian getaway. You are in for a real treat over Easter with Rome's birthday celebrations taking place on 21 April and this cosmopolitan city does it in style with must-see music concerts, live performances, festivals, fireworks and traditional gladiator shows. From Rome and Venice to the sun-splashed beaches of the Neapolitan Riviera, Italy offers a perfect combination of beach holiday and city break.
Find the flavours of Portugal
April is a month of celebration in Portugal. Easter week (known as Semana Santa), kicks off with elaborate floats and processions taking place across the country. Try the Algarve for a stellar beach holiday, sample the nightlife in Albufeira or head to Madeira if you're looking for a more laid-back vibe. With some of the most picturesque courses in the world, Portugal is also a Mecca for golfers. Portugal's capital city Lisbon is on the rise as a culinary hotspot, so if you consider yourself a foodie, you'll love Peixe em Lisboa, Lisbon's gourmet seafood festival which also takes place in April. The sunshine, the food and the wine are all delicious here, which means your customary holiday catchphrase must be 'que gostoso!' ('how delicious!').
Austria for arts and culture
If you want to see some of Europe's cities at their finest, Vienna is a popular choice for an Easter break as the local Viennese head to the Alps for a final ski before the snow starts to melt. The seasonal markets are a much-loved attraction in Vienna, which is also home to the world's oldest zoo and the world-famous Vienna Opera House. Marvel at the baroque and medieval architecture in the city of Salzburg with its quaint streets and discover the fairytale Hohensalzburg Castle. You'll also find a cornucopia of art and culture in the city of Linz on the Danube, but before you leave, enjoy Austria's coffee-house culture and savour the legendary Austrian coffee and pastries in a traditional Kaffeehaus.
Idyllic Cyprus islands
Surrounded by glittering waters and shores, Cyprus is an enticing option. The spring sunshine ushers in Pascha (Holy Easter) – the most important celebration in the Orthodox Ecclesiastical calendar. It's a joyous time for the Cypriots who will welcome you with warmth and friendliness and encourage you to join in the fun. Try Paphos for a romantic getaway – it's said to be the birthplace of the goddess Aphrodite, which bodes well for some loved-up R&R. If you are looking to party by night and beach it by day, head for Ayia Napa which is known for its buzzing nightlife. If you'd like a slice of history with your sojourn, the island is teeming with ancient ruins and archaeological treasures.
Experience exotic Morocco
Located at the northern tip of Africa, Morocco sizzles at the height of the tourist season with highs of 37°C during the summer. This makes April a fantastic time to visit with cooler temperatures and fewer crowds. Morocco is a land of contrasts, featuring desert, mountains and shorelines. If you are looking for a beach holiday, the beach scene in Agadir has all the amenities you need from Blue Flag beaches and health spas to stylish bars, eateries and lively nightlife. If you are looking for adventure, try sandboarding in the desert or skiing in the Atlas Mountains. Discover ancient medinas and souks in cities like Fez, Rabat, Marrakech and Casablanca where you will find everything from snake charmers and traditional music to aromatic spice bazaars and handmade trinkets.
Travelling at a moment's notice needn't be stressful. You'll be surprised and delighted how affordable it is. Check out www.holidayhypermarket.co.uk for a variety of hassle-free deals on some amazing last-minute Easter holiday destinations.