Concerts
McDowell Mountain Music Festival 2014 Preview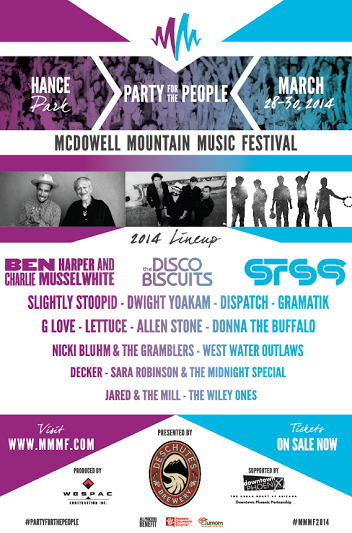 McDowell Mountain Music Festival first appeared onto the scene all the way back in 2004 and has been bringing great live music to the valley ever since, and for a good cause. Designed to promote community involvement, this AZ fest is completely non-profit, and has brought such acts to the stage as The Roots, Umphrey's Mcgee, The Shins, The Flaming Lips, Bob Weir, Grace Potter and the Nocturnals, Blues Traveler, and much more; lineups the likes of which Arizona had rarely ever scene.
For many Arizonans, this was the first festival experience they could recall being organized for the valley, and had everyone from all corners of the state coming to boogie down. Though a lot has changed since their inception in 2004, this organization never seizes to bring great acts to the stage and great vibes all around! Not too many people realize, it's all for charity! All of the proceeds from the 3-day event will benefit two local non-profits: UMOM New Day Center and Phoenix Children's Hospital!
THIS YEAR they've really outdone themselves with acts such as,
Lettuce
,
STS9
,
The
Disco
Biscuits
,
Dispatch
,
G
Love
(sans special sauce),
Ben
Harper
and
Charlie
MusselWhite
,
Slightly
Stoopid
,
Donna
and
the
Buffalo
, and so much more; check out the full lineup on MMMF's
site
.
I for one have never been more excited for a McDowell Mountain lineup such as this, and this year will be my eighth year attending. My point remains, however, that this lineup is surely unmissable. So, I urge all of you JNTM readers and subscribers come on down this March to Margret T. Hance Park for a weekend of culture, music, art, lights, beers, friends, dancing, fun, and family, right in your backyard!
Check back to Just Noise To Me for more information on McDowell Mountain Music Festival 2014 ticket prices, lineup additions, and more… coming soon!