Concerts
True Music Festival Brings Together a Smorgasbord of Music for their Debut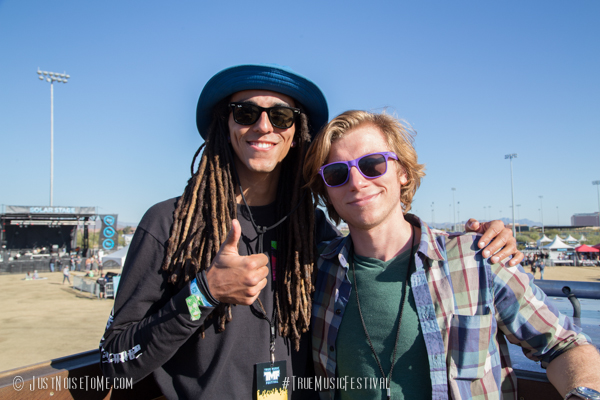 I wasn't sure what to expect walking into the first ever True Music Festival; in fact, I don't think anybody did.  Honestly, we were a bit concerned about the seemingly eclectic lineup from the get-go.  How could we be expected to survive the psychedelic adventure that is a Flaming Lips show, move on to a 420-centered rap performance by Wiz Khalifa, and then top it off with a weird and nasty Bassnectar set with equally diverse acts in between?  At first, it seemed that the guys at TMF simply threw in the first groups that came to their minds.  Still, people of all ages, backgrounds, and occupations flocked to the Scottsdale Salt River Fields to enjoy what turned out to be the most universal and all-inclusive festival experience we've ever seen.
The day begun under the Arizona sun with a collection of local artists from all around the state.  While the park stayed pretty desolate for the first few hours, we had no trouble getting down and dirty with some of AZ's finest (and hugely under appreciated) talent.
The Black Moods kicked off the festivities, and laid down a grungy, 90's-esque set, while members of Wiz Khalifa's Taylor Gang, Berner and Chevy Woods drew the other half of the crowd to their side of the park with their consecutive rap sets.  We were lucky enough to run into lead man of the Black Moods Josh Kennedy, who was more than happy to share his sentiments on TMF.
JNTM : How did you get in contact with TMF? Was it tough to get a spot?
Josh : "Yeah, we came to them.  We had to fight tooth and claw to get in here—And we're the ones playing right when the gates open".
JNTM : That being said, what do you think of the festival as a whole?
Josh : "Oh, well it's a great vibe in here already, it's great!"
These Zeppelin and Creedence influenced rockers have been playing the AZ venue circuit for a while, and it seemed that they were happy to break into the world of festivals.  Oh, and of course they were willing to take some glamour shots with us.
The nine-piece, "Gypsy Funk" group Dry River Yacht Club was up next, and having seen them a time or two already alongside He's My Brother, She's My Sister, we thought we knew what we were in for.  Lead hottie Garnet and her motley assortment of musicians gave us a huge-sounding, trippy and completely unique experience.  Somewhere in between the oboe, the violin, and the sultry vocals, we fell in love.  After their set, we flagged them down to see what they had to say about their music and the festival.
JNTM : "You guys have an incredibly unique style.  How did you all come together to create the Dry River Yacht Club?"
Fred : "All of us are like one big group of producers—It's like working on one big piece of wood, we all bring something to the table and widdle away at it."
JNTM : "So how has your experience with True Music Festival been so far?"
Garnet : "We're so proud to be playing here alongside such great acts.  He's My Brother, she's My Sister, The Flaming Lips? Awesome."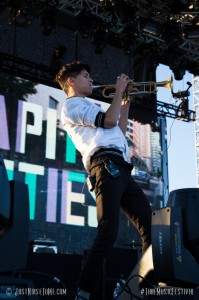 As the day progressed, things only got more diverse, and exponentially more massive.  Lord Huron's hippie-folk vibe flowed perfectly into the smooth, almost lounge-style rock of Black Carl on the other side of the field, and kept us moving until the big names began to arrive.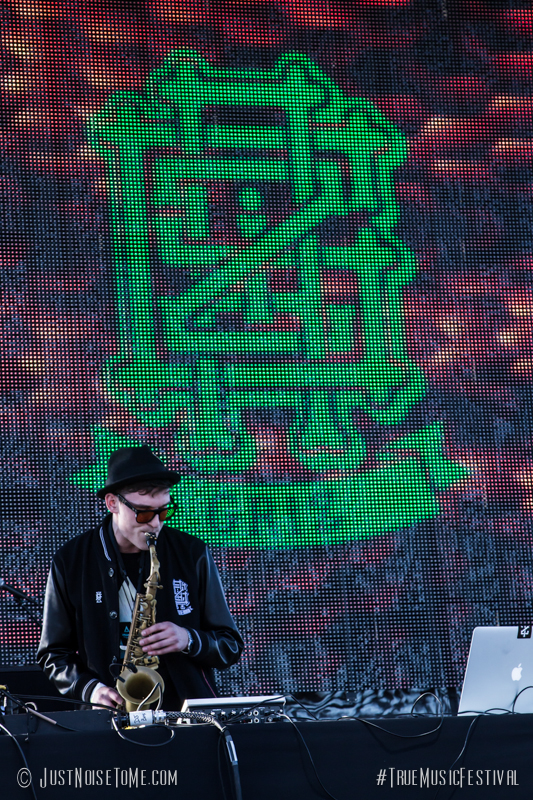 After a long few hours of rock in the hot sun, nothing was quite as refreshing as GRiZ's funky, saxophone-accentuated set.  He laid down a medley of songs off of his new and critically acclaimed album Rebel Era, such as "Getting Live", as well as the James Brown-influenced "DTW to DIA", remembering of course to drop his collaboration track with Grammatik, "Digital Liberation is Mad Freedom", sprinkling little sax solos whenever possible.
About midway through GRiZ's set, people began to turn their heads to the sky to see the colorful parachutes begin making their way down towards the festival.  The skydivers continued to roll in through his set, and into Capital Cities.
We were wary of Capital Cities at first.  After all, all we had known were a few of their most poppy tracks, such as "Safe and Sound" and "I Sold My Bed, But Not My Stereo", and we half-expected a somewhat boring, clap-your-hands pop set.  Instead, we got some thick and groovy funk sounds, with all the goofy nonchalant-ness of Chromeo, and the musical prowess and diversity of Breakbot.  They even gave us a slowed-down, soulful rendition of the BeeGee's "Stayin' Alive" that had us spinning and snapping like a couple of dudes right out of the late 70's.
Sweaty from a couple hours of dancing and mingling with the Scottsdale folk, we traversed the field once again to feel the folky sounds of both The Kopecky Family Band and He's My Brother, She's My Sister.  Although HMB, SMS was missing their trademark lead woman, they had a medley of female vocalists cycle through their set in what they called "A big game of musical chairs".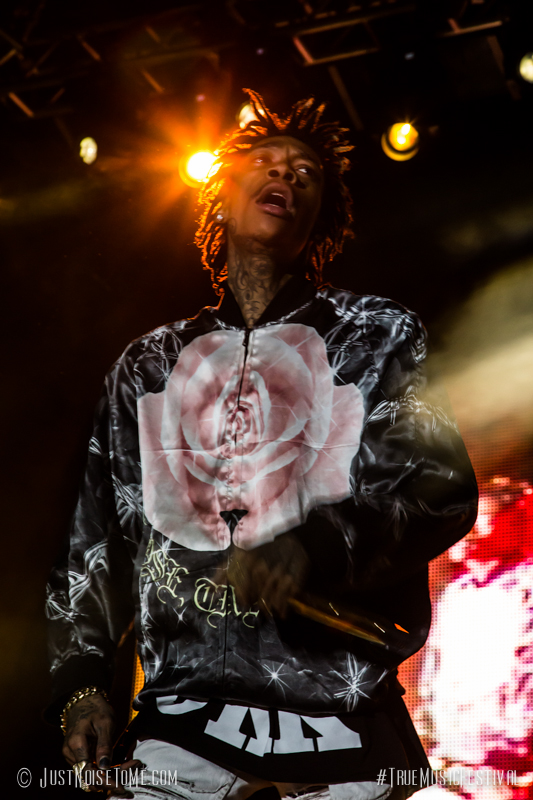 Stoner sensation Wiz Khalifa went on next, and as the night began to get cold (who knew it actually gets cold in Scottsdale?) everyone flocked to the main stage to watch him and his band do their thing.  He laid down hit after hit, from party anthem "Young, Wild, and Free" to "Black and Yellow", and although his set was in every way opposite of the few before him, everyone seemed to get down without missing a beat.  It seemed that everyone had a certain act that they had come especially for, and for many of the people there, it was Wiz.
Next up, on the opposite end of the musical spectrum, but the same stage, The Flaming Lips went on, bringing their trademark freaky sounds and stunning visuals with them.  Lead man (and legend) Wayne Coyne stood atop a pile of massive silver spheres adorned with rope lights directly in the center of the stage (and he cradled a baby doll through the majority of his set, because sure, why not?).  After playing  variety of songs both new and old, and dazzling the crowd with their huge and all-encompassing light show, Coyne and the gang touched some hearts with "Do you Realize?", and finished off their set leaving people dazed and confused on their walk over to Kill Paris.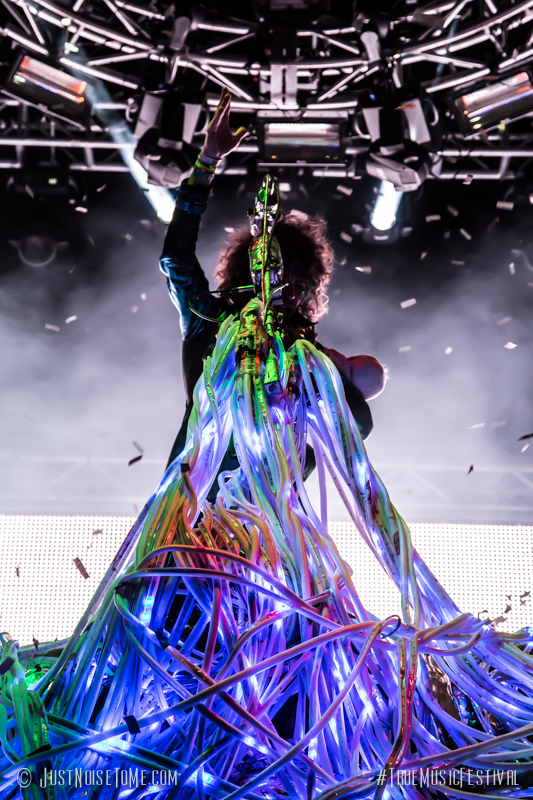 Another polar opposite, Kill Paris brought some funky and heavy electro-beats to the table, playing fun remixes, and raising our heart rates for the big man himself, Bassnectar.
After seeing Wiz Khalifa and The Flaming Lips, I had come to a realization about TMF.  What I thought was directionless scheduling before was actually a cleverly-designed lineup designed to attract people of all walks of life.  They actually scheduled three different headliners with three completely different styles and fans.  Still, the same people who were awe-stricken at the Flaming Lips were right up front, getting weird with Bassnectar.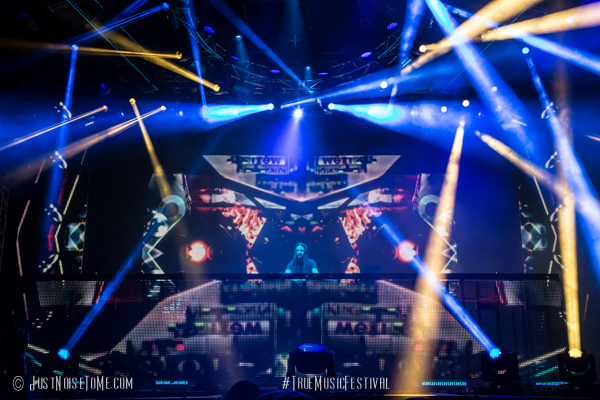 Now, we had recently had a Bassnectar experience at HARD Summer, and it was interesting to see how his set had evolved since then.  It seemed he had mellowed out his set slightly to accommodate the types of people who may have not been die-hard electronic music fans.  Either way, he still brought it insanely hard with heavy tracks like "Raw Charles", and left us at the perfect point for the end of the festival—exhausted, confused, and grinning like children.
The True Music Festival Experience was weird, definitely.  That, however, did not subtract from the fact that the festival was one of the most interesting experiences we've seen in music.  From the added perks of picking up a VIP pass (Skydiving, exclusive areas, ect) to the seemingly clashy lineup, True Music Festival definitely took a few big risks for their debut show.  Fortunately for them, it paid off in what seemed to be a very successful and universally enjoyed experience.  We're glad they invited us there to show their stuff, and if we're lucky, we'll be there next year to see what's changed.
Photos by Quinn "TurtleGravy" Tucker