Concerts
The 8th Annual Gem and Jam Festival Preview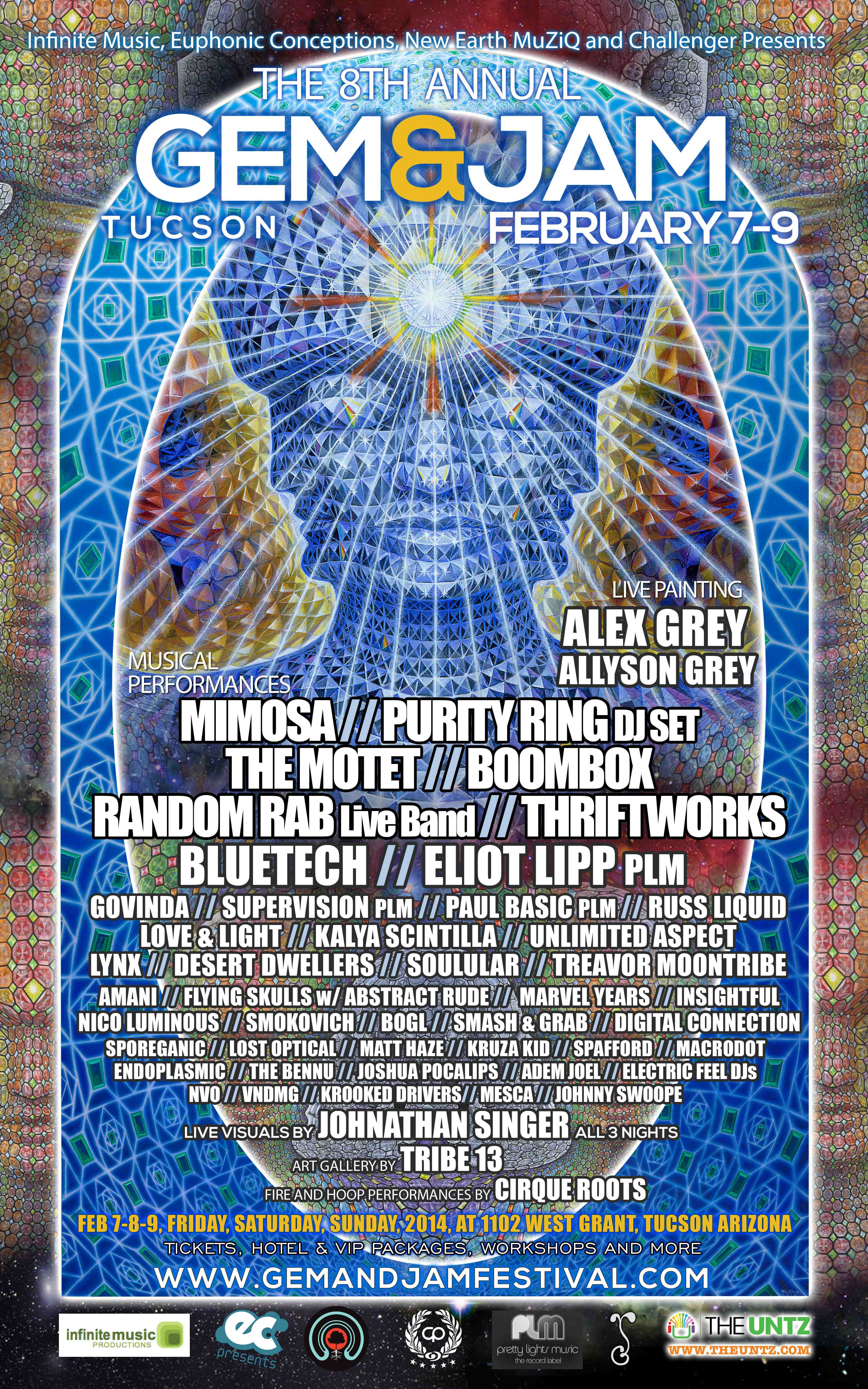 An eclectic gathering of individuals from all walks of life are preparing themselves for a weekend of mind expanding (and possibly altering), music, art, light, dance, love, and togetherness. A weekend where this eclectic menagerie of beautiful souls come together to express themselves while baring witness to new and inspiring music and art. The Gem and Jam Festival, held from February 7th-9th in Tucson is not an event to miss out on. They provide attendees and festival family alike with an eclectic mystical blend of new sonic adventures paired gracefully with live art, meditation, yoga and performances.
Whether you are familiar with all of the lineup or none of it all, the musical agenda has a little bit for everyone whether it be rhythmic heavy bass, groovy jam bands, or hip hop influenced producers. Some musical acts we at JNTM personally take time to look out for are the ever infectious and unparalleled producers like, Thriftworks, Russ Liquid, and Eliot Lipp who melt you into their sets and make you feel in ways you never have before. If you're fascinated by the surreal, you've found the right place.
Desert Dwellers, Kalya Scintilla, and Random Rab will be helping the audience get in touch with some deep ethereal sounds while combining smooth rolling baselines underneath mystifying soundscapes of world instruments and vocal samplings, while unifying the crowd under the desert sky.
A super coveted DJ set from Purity Ring is in the works for the opening night, which will be sure to get everyone moving and started off the right way, with Dilla-inspired beat work. A grip of pure musical talent throwin' down the funk with bands like The Motet Boombox, and Spafford in attendance. When asked to describe what these kind of events are like and what to expect from the sets, most of all what people hear is that they are for a cosmic, mind and body experience that goes further than live music.
One of the first things to describe is how wonderful the crowd is. Rather than crowding like cattle towards the front of the stage where everyone can barely move, people have more respect and even more common sense than your typical festival crowd.
You'll have plenty of room to dance and freely move around with the company of like minded people, engulfed in the energy around them, and in doing so the whole crowd moves as one with the most incredible synchronized energy. Everyone will be there to be together with the similar goal of gettin' down, exchanging smiles with new faces, and living in the beautiful moments this festival provides.
We must also reflect on the absolutely awe inspiring and wondrous artwork and installations last year's event had in store. Some of the most widely known visionary artist, Alex and Allyson Grey, will be performing and painting a live and original piece alongside other immense talents, Johnathan Singer who performs live multimedia light shows set in real-time to live music, Johnathan Solter, The Welch Brothers, Andy Reed, Jesse Noemind, and more. The festival offers a personal drawing workshop with Alex Grey as an additional package for sale for any interested artists.
To all the festival newcomers,
You're going to meet a lot of amazing people that will touch your heart, and it's money well spent as the tickets are modestly priced in comparison to what is provided. A 3-Day festival pass can be purchased online for $130. For everyone that wants to get silly into the late-night hours after the festival, there are intimate after parties at a local venue called Solar Culture. The after party features some of the major acts like Thriftworks and Random Rab. All three after parties can be bought for $40 which is a total steal. There are single day festival passes and single day after party passes for anyone who can't make all three days but wants to come celebrate with the Fam.
Gem and Jam is not just a place to explore creative musical and artistic ventures, but a safe place for attendees to really feel like they're participating in something more than just a party. This is a celebration of what it is to live and let live in harmony with each other while we marvel at the artifacts of human potential and expression. Come open yourself to this weekend of love and celebrate what unifies us, love radiating through music!
For more information, visit the official Gem and Jam website! 
Photos courtesy of Gem and Jam.