Concerts
True Music Festival 2013 Preview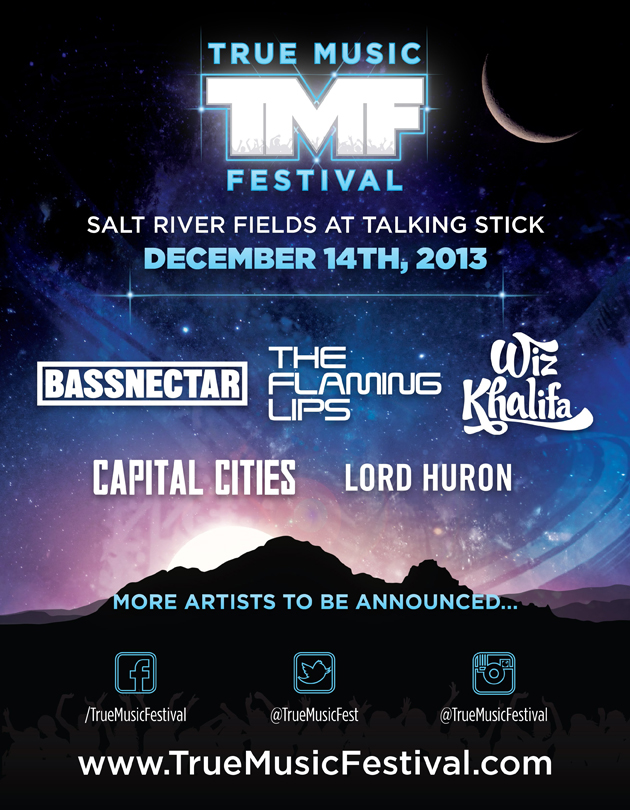 True Music Festival is a brand new, multi-genre music festival making its debut this winter in Scottsdale, Arizona at Salt River Fields at Talking Stick Resort. The festival, which will be taking place on December 14, 2013, is already packing some major heat in terms of headlining artists.
First on the list is the always eccentric and EDM favorite, Bassnectar. With his new album out and Immersive Music Tour already underway, Bassnectar will be wrapping up his year by bringing his huge sound and incredible light show to the Scottsdale area.
The next headliner is one of the most influential and genre-bending bands in rock 'n' roll: The Flaming Lips. The three-time Grammy award winning band is known not only for some of the most thematic tracks ever written, but more importantly for their amazing live shows including elaborate costuming and visuals, and lots of toilet paper. Don't forget about Wayne Coyne crowd surfing in a a giant balloon.
The next big name to take the stage at the True Music Festival is hip hop mogul Wiz Khalifa. Khalifa, who has also been busy with an international tour, is sure to be a huge bringer for hip-hop fans across Arizona. Wiz is best known for his tracks "Black and Yellow," "Young Wild & Free," and "No Sleep."
Sticking to their motto of having a "multi-genre" music festival, the final two artists on the headliner list give attendees a true blend of indie and folk rock. Capital Cities, known best for their smash dance single "Safe and Sound," and Lord Huron who have been making waves in the indie community since 2010, will be bringing the perfect mix of grooviness to an already stacked lineup.
First tier general admission tickets are on sale now, while VIP and other packages will be available within the next coming weeks.
Be sure to check back soon for more information on additional artists, tickets, and more!