Concerts
HARD Day of the Dead 2013 Lineup & Trailer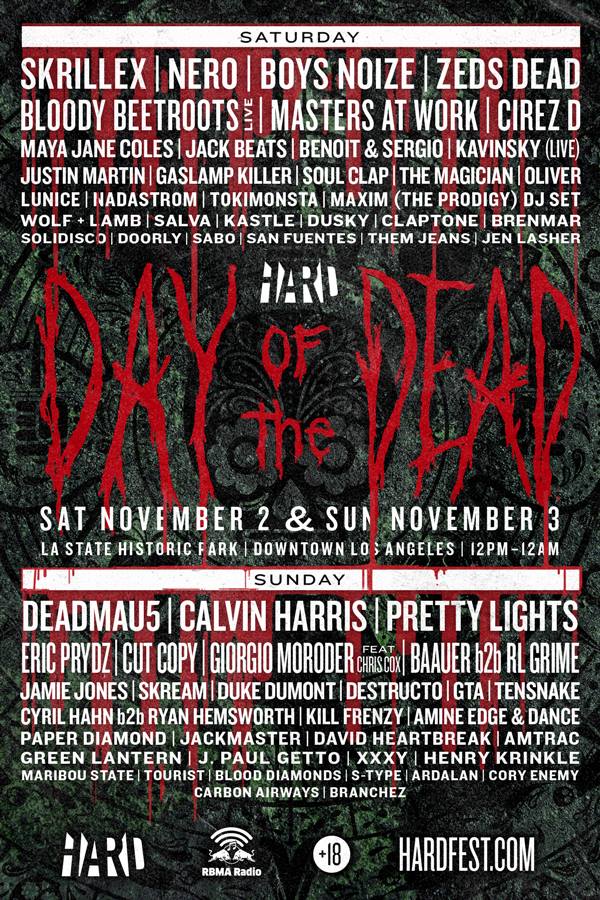 With HARD Day of the Dead 2013 only a month away, many were excited to see the newest updates from Gary Richards, aka Destructo, about this year's Dia de los Muertos themed event. The initial lineup was released only a few days after the end of HARD Summer 2013, but now HARD Presents has released the official lineup along with an amusing trailer featuring some of the big names set to appear at Day of the Dead this year including Skrillex, Jack Beats, and the Gaslamp Killer.
UPDATE: Just Noise to Me favorite Phuture Doom has just announced their first ever live appearance will be at this year's HARD Day of the Dead.
If this video is proof of anything, it's that Gary Richards and his team at HARD Presents are definitely raising the bar with their promotional videos. Their promo video for this year's HARD Summer, featuring dogs (and one cat) dressed up as the featured DJ's, was a smash hit on the internet and definitely proved to gain some interest by those who wouldn't normally know about the event's existence.
The HARD Day of the Dead 2013 trailer is a little more dramatic: The Gaslamp Killer, after finding out he's "not booked" for this year's show, starts killing off the DJ's who are actually on the bill, bringing the "missing DJ's" campaign Destructo has been pushing for the past few months to a close — almost. More surprises are more than likely on the way.
HARD Day of the Dead will take place on Saturday, November 2nd and Sunday, November 3rd at the Los Angeles State Historic Park in Downtown Los Angeles from 12AM to 12PM. Click here for tickets and more information. 
Check back for updates on set times and more!