Concerts
Who To See At BUKU Music + Arts Project
Well, the BUKU Music + Arts Project is only 3 days away and the time has come to make your own schedule for the weekend. This year's lineup is STACKED with some incredible artists like NAS, Zeds Dead, Danny Brown, Chromeo, and many, many more.
But with so many awesome acts, how are you to opt between them? I've taken the time to comb through the schedule and inform you on the do-not-miss artists of the 2014 BUKU Music + Arts Project.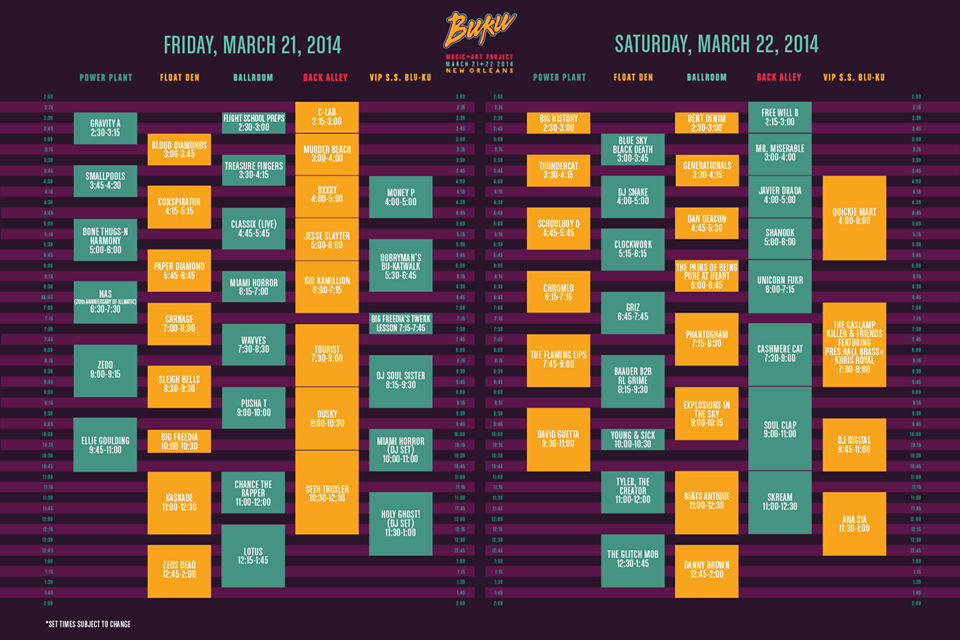 Do-Not-Miss Artists, Day 1
The first day of BUKU is going to be a fun one for sure. If you're trying to go early only one of the days, I highly suggest choosing the first day. Blood Diamonds and Treasure Fingers are definitely on their way to becoming some serious contenders for being top-billing names in the next coming year.
If you're into some super funky electro, check out Miami Horror. Catching them live is fairly difficult, so take advantage of the opportunity to see them in NO.
Hip Hop heads shouldn't be the only one heading to NAS on Friday night, as this will be his first live performance in quite some time, and he's billed as playing Illmatic, one of the best Hip Hop albums ever.
With one of the best sets at HARD Day of the Dead 2013, Dusky is sure to put on another amazing show at BUKU. You'll also definitely want to check out Chance The Rapper and close the night off with Zeds Dead. 
Do-Not-Miss Artists, Day 2
If you thought Friday was good, the second day of BUKU is going to be even bigger. My suggestion: start your night off with DJ Snake, who has not only been releasing banger after banger, he also just put out one of the best 2-hour mixes I've heard in a long time. If his BBC 1 Essential Mix is any indication of how well he performs live, his set will be one you DO NOT want to miss.
If you're trying to keep your buzz on, stay at the Float Den and catch Clockwork whose live set is always an impressive one.
One of the most anticipated acts of BUKU (for me at least) is Chromeo. These guys have been releasing singles off their upcoming album and it will be one of the first times this year anyone will be able to catch a glimpse of what their 2014 will look like.
Next up, Cashmere Cat. The dude just released an incredible EP and his set at SnowGlobe was so insane I wouldn't dare see anyone else during that time slot… unless it was maybe Baauer going back to back with RL Grime. The two Trap Kings had a pretty gnarly Boiler Room set together that will seriously take you by surprise.
If you're as big of a house fan as I am, you should make your way to the Back Alley stage to check out Soul Clap who are performing for two solid hours. Get your dancing shoes/pants/shirt ready because that set will be nothing but the funk.
Skream is another artist who rarely makes festival appearances, especially at smaller, home-grown shows like BUKU, so if you're a fan you'll absolutely want to watch his set.
What better way to end the night in New Orleans than seeing Danny Brown? His high-energy performances along with his DGAF attitude is always a perfect combination. Hey, maybe he'll even get a BJ on stage again…
All in all, BUKU has something for everyone. If you're into Ellie Goulding and Kaskade I'm sure they're going to put on one hell of a show! Hey, even David Guetta is supposed to be pretty good.
The only thing I would have to say is that you should always try and see someone you've never seen before. It might sound stupid, but the best thing you could ever do at a festival is take advantage of the platform these artists are given. They're probably PUMPED to be there, so see someone you've never seen before! It might be the best show they ever perform and it could be one of the best experiences of your life. Either way, have fun, be safe, and come say hey this weekend!