Concerts
Zomboy – The Outbreak Tour Dates & Ticket Info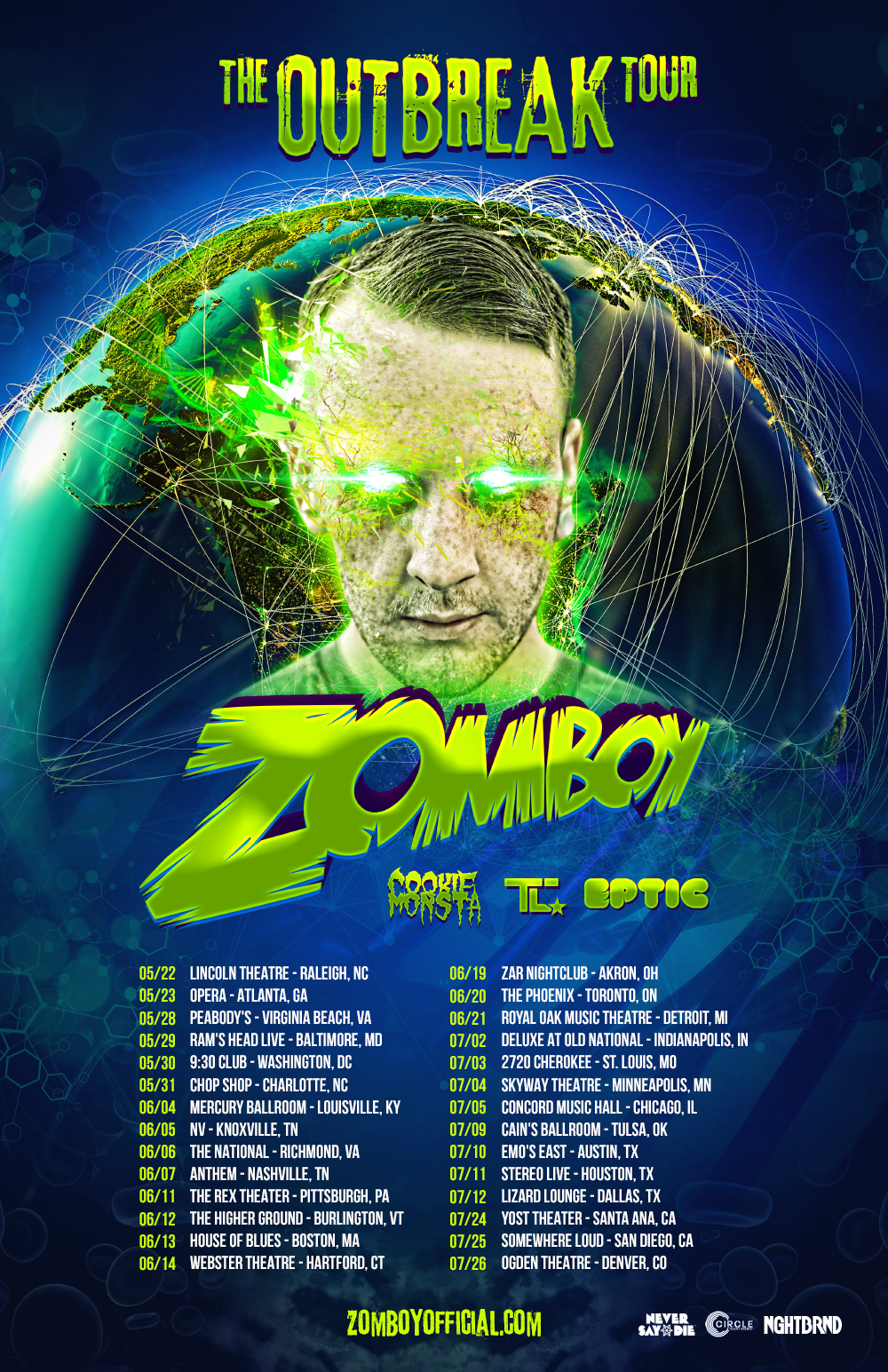 It's time for one of the biggest summer tours of 2014. Joshua Melody aka Zomboy is heading across North America for a 35-show tour that will be one of the most epic bass-in-your-face events of the entire year.
With support from Cookie Monsta, TC, and Eptic, The Outbreak Tour will be a collaboration of some of the most massive DJs on the planet.
The Outbreak Tour will take place in conjunction of the release of Zomboy's new LP of the same name, out this July on Never Say Die Records.
The Outbreak Tour
May 22nd // Lincoln Theatre // Raleigh, NC
May 23rd // Opera // Atlanta, GA
May 28th // Peabody's // Virginia Beach, VA
May 29th // Ram's Head Live // Baltimore, MD
May 30th // 9:30 Club // Washington, DC
May 31st // Chop Shop // Charlotte, NC
June 4th // Mercury Ballroom // Louisville, KY
June 5th // NV // Knoxville, TN
June 6th // The National // Richmond, VA
June 7th // Anthem // Nashville, TN
June 11th // The Rex Theater // Pittsburgh, PA
June 12th // The Higher Ground // Burlington, VT
June 13th // House Of Blues // Boston, MA
June 14th // Webster Theatre // Hartford, CT
June 19th // Zar Nightclub // Akron, OH
June 20th // The Phoenix // Toronto, ON
June 21st // Royal Oak Music Theatre // Detroit, MI
July 2nd // Deluxe At Old National // Indianapolis, IN
July 3rd // 2720 Cherokee // St. Louis, MO
July 4th // Skyway Theatre // Minneapolis, MN
July 5th // Concord Music Hall // Chicago, IL
July 9th // Cain's Ballroom // Tulsa, OK
July 10th // Emo's East // Austin, TX
July 11th // Stereo Live // Houston, TX
July 12th // Lizard Lounge // Dallas, TX
July 24th // Yost Theater // Santa Ana, CA
July 25th // Somewhere Loud // San Diego, CA
July 26th // Ogden Theatre // Denver, CO
For tickets and more information, click here.
Zomboy
Facebook // Twitter // SoundCloud