Artist Spotlight
Artist Spotlight: Miny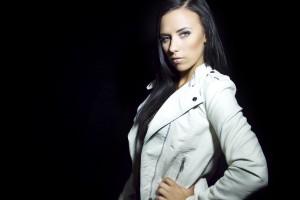 As the hip-hop game becomes more and more difficult to break through, there are certain artists who are taking the reigns and rising to the top on their own. Phoenix based rapper Miny, aka Mindy DuPonte, is showing the world what it means to be one of the best entrepreneurial artists in the music industry. Producing her own music videos, music, social media and more, Miny is her own everything.
With a combination of her sexy style and "demon" like lyrics, Miny is quickly becoming one of the most intimidating female rappers on the West coast.
We were lucky enough to ask Miny some questions about the struggles of being your own manager, being a female rapper, and what it's like being an independent artist on the rise.
Just Noise to Me: What got you started in music? Was there an artist, song, band that made you want to get into rapping? 
Miny: I started a death metal band with my sister when I was 13. We thought it was hilarious because we were two girls playing this terrifying music. The metal band went on for 8 years and I felt like I wanted to branch out and start writing in the genres that I was primarily listening to; rap and pop.
It's as if the universe began accepting different kinds of female rappers the moment my love for rap took a complete hold on me and I wanted to be a part of it. The freedom of expression as a female in rap is very appealing to me — and the more I do it, the more freeing and fun it gets!
JNTM: How would you describe your style of music? 
Miny: I think it's important to accept and free all of the things I feel instead of trying to fit one particular genre. My music tends to be kind of bipolar, and I would describe it as genre skipping indie pop/rap. I set out to make each song different from the next to express whatever I'm feeling.
JNTM: What inspires you when you're writing? Is there an artist or maybe a mentality you subscribe to when writing? 
Miny: I'm inspired by artists, songs, feelings, conversations, relationships, or thoughts that strike me as potent and authentic. I try to tap into a place of expression without filter which can be challenging. Growing up in the 90's also really inspires me because it was all about being proud of your quirkiness.
JNTM: What's been the hardest part about getting started/getting your name out there?
Miny: Getting started and being independent is artistically freeing, but financially straining which is probably the hardest part.
Music costs money and to cut down costs- I end up doing a lot myself. I'm typically multitasking with directing/editing/ producing my music videos, writing, mixing, mastering, social networking, graphic design, etc.
The plus side is that I end up learning a lot, and have control over what's released because I'm personally involved in all of it.
JNTM: Women in music, specifically rap, are becoming a more dominant force. What do you think that says about our generation and where music is heading? Have you ever had any problems with performing because of your gender? 
Miny: I think it's great that fellow females are trying to make it in rap, but we have a long way to go before we're respected. Being a female in metal and now in rap can be really challenging and I've definitely encountered difficulties in both due to my gender.
It often feels like people want to test my skill or fit me into some sort of category when music should be the focus- not gender. I understand why things are that way because a lot of females continue to send us backwards with gimmicks instead of being innovative and it makes people skeptical.
I'm hopeful that with time people will get used to seeing females in powerful positions in music and that gender can be less of a focus.
JNTM: As an independent artist, how are you able to fund your recordings? You also have some seriously awesome music videos. How do you get the money/time to make your videos? 
Miny: Affording an artistic passion really comes down to taking advantage of resources you have available, staying networked with like minded creators, and being educated. A lot of my music videos were done before I graduated from ASU in the film and media production program. My school provided film equipment, and I edit the videos using a mixture of programs which I learned in High School.
I work closely with film friends from ASU who dedicate a lot of time and energy into helping me. Right now I record at a studio that I built this summer where I record, mix, and master songs using Pro Tools. I'm basically working on no budget and have to get super creative and maximize my productive time to get things done.
JNTM: How has social media helped with growing yourself as a brand? What difficulties do you
have with working online? 
Miny: I love social media, without it independent artists wouldn't be anywhere. I think it's challenging because people constantly crave new information but it keeps me on my toes. Social media helps me grow because I immediately get to see what people like or dislike in order to gain perspective.
I think every artist faces difficulties in terms of loosing face to face connections, and dealing with online harassment- that's really the only detractor with social networking and it's not really that negative because I personally get a kick out of it.
JNTM: To you, what's the most important part about being an independent artist on the rise? What are some of the biggest challenges? What's the most enjoyable? Is there a mantra of yours you tell yourself to stay focused? 
Miny: The most important part of being an independent artist is putting out authentic music while you can. The Biggest challenges include cost, time, and energy. The most enjoyable aspects are having control of my music, getting to personally interact with my audience, and making every song and video exactly how I want.
I stay focused by being inspired by new music and dedicating my efforts to my sister Desiree who passed away in 2007. I like making music/ videos that she would have enjoyed. I would advise other artists that if you keep on going- you'll get where you want to be. Don't let anything slow you down!
JNTM: How have you grown/matured since you started rapping? What have you learned along the way?
Miny: I started rapping during the summer of 2012. I was living in LA and had seen several articles spring up on female rappers, and it just got to a point where I had to start. Rapping has been something that I've wanted to do for so long and I feel like since the moment I've started- things have constantly been changing.
My dreams, ambitions, personal style, musical influences, and branding are constantly changing as I'm growing within the genre. I've started to feel less like an outsider trying to fit into a genre, and more like an artist trying to celebrate their individuality in a genre that embraces that.
JNTM: What advice would you give to someone who wants to do what you're doing? 
You just have to do it, and don't stop. Do whatever you can to get yourself out there- make some recordings, indie music videos, play as many shows as possible and get going. With enough time and effort- you'll get where you want to be. 
JNTM: What's in the future for Miny? Where would you like to see yourself in 5 years? 
Miny: A lot! I'm working on my mixtape Demon which is full of new styles that haven't been heard before so I'm so excited for people to start hearing that. I'll also be doing more live performances, bigger collaborations, dropping more music videos, possibly starting a clothing line, and more. No matter where I am in the future, I'll be entertaining; be it making music, movies, music videos, or producing.
For more on Miny, check out these fine social media outlets: 
Instagram: minymusic