Artist Spotlight
Artist Spotlight: Die Antwoord
There are few musicians in the world that possess the ability to drop jaws in each song verse, each music video and each interview. There are even fewer musicians that can make Lady Gaga look like a nun and Nicki Minaj appear as a normal contributing member of society. Enter, Die Antwoord.
Hailing from the depths of Cape Town, South Africa, the duo emcee's Ninja and Yolandi Visser brought a rave-rap mash up the likes the music industry had never seen nor was prepared for. That would explain the cult-like following they have accrued from their humble beginnings as YouTube sensations in 2007 that eventually lead to the sold out worldwide tours in 2013. The perfect combination of insane and artistic has granted Die Antwoord the platform to express their "zef" life style derived from their mufti-cultured South African roots.
"Zef", Afrikaans slang for "common every day" is the representation of the groups persona that is appropriately described by group emcee leading lady Yolandi Visser as, "It's associated with people who soup their cars up and rock gold and shit. Zef is, you're poor but you're fancy. You're poor but you're sexy, you've got style."
Since bursting onto the scene in 2008 in shocking style, the "zef" grunge lifestyle rubbed music moguls the right way. Releasing their first album $O$ in 2009 for free online, infamous songs "Wat Pomp" and "Enter the Ninja" begged international attention from viewers and executives alike. Music videos for both songs, more specifically "Enter the Ninja" got the attention of Interscope Records that resulted in a brief record deal in 2010. Eventually a revamped version of the free issue of $O$ was to be released in stores featuring electronic icon Diplo on the track "Evil Boy".
Accolades piled high as famed music vidoe for "Enter the Ninja" won numerous video awards and earned #39 on UK's Top Music Chart in 2010 along with Myspace's Best Music Video of 2010. However, tensions rose between the group and Interscope Records in the direction Die Antwoord should take. In one corner Ninja and Yolandi urged to remain loyal to their uncanny "zef" foundations that set them apart from the music industry's riffraff and in the other was Interscope Records pushing the group towards the mainstream glamor ending in an inevitable separation.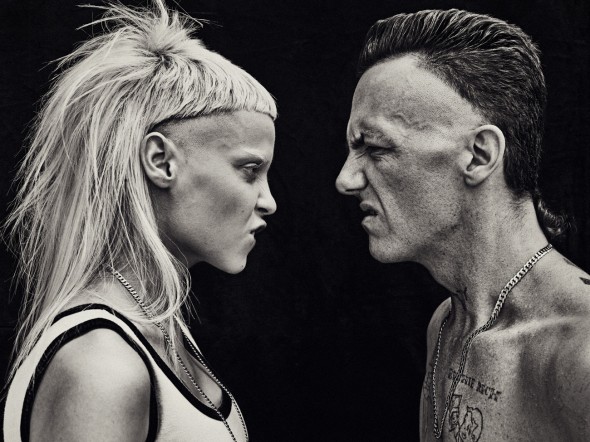 In 2011 the group created independent label Zef Records in which they later released the album "Ten$ion" through that undoubtedly proved Die Antwoord was headed for mirrored success. Hit songs, "Fatty Boom Boom", "Baby's on Fire" and "I Fink U Freeky" had heads nodding and hearts pumping with even more over the top vocals and shocking videos. As far as the group was concerned the more "zef" the better as the international spotlight seemed brighter than ever landing them on American TV shows and sold out venues.
2013 has been no short work for Ninja and Yolandi after the release of their non-album single "Expen$ive $h1t". Their summer tour through Europe brought about the newest hit single "Cookie Thumper" that was accompanied by an always renowned music video that is only a peak inside the up coming album "Donker Mag" set to be released in February 2014.