Concerts
Coachella 2015 Lineup Announced; ACDC, Jack White, Drake Headline
The Coachella Valley Music and Arts Festival has released their long awaited 2015 lineup. With classic rockstars ACDC, Jack White and Drake taking the headlining spots. This may come as a bit of a disappointment for some fans who long for the days of a more "underground" act taking top billing.
But no matter, there are plenty of great acts who take second billing. Including these JNTM highlights Tame Impale, Flying Lotus, Ghostface Killah, DJ Snake, Porter Robinson, Squarepusher, Action Bronson, Flosstradamus, Tycho, Run the Jewels, What So Not, Cashmere Cat, Madeon, Kygo, Gesaffelstein, Claude Von Stroke and many, many more.
Tickets go on sale tomorrow morning, January 7th and plan on waking up early because they always sell out quickly.
Coachella 2015 Lineup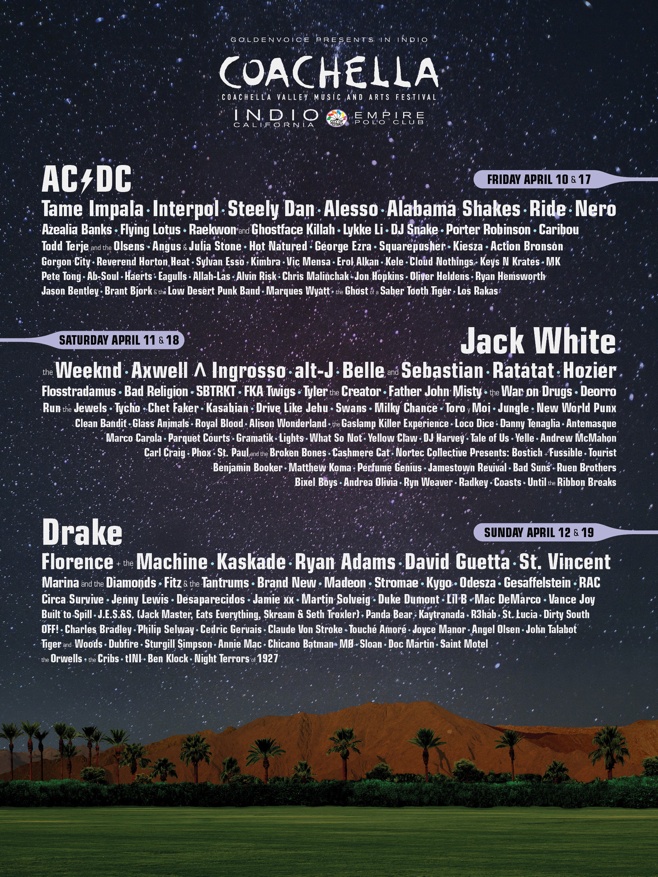 Oh, I forgot to mention that also on the bill is Steely-Mutha-Fucking-Dan!