Concerts
McDowell Mountain Music Festival Lineup 2015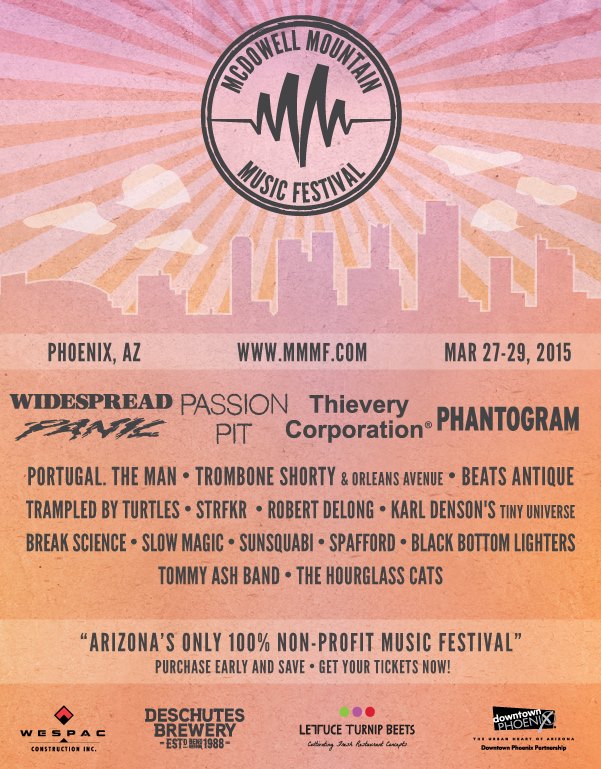 McDowell Mountain Music Festival has released their 2015 lineup with a decidedly  more diverse array acts to perform in Phoenix March 27-29. The four headliners who top the bill could not be more disparate.
We've got Wide Spread Panic's brand country classic rock, Passion Pit's bubbly electropop, Thievery Corporation's jazzy trip-hop, and Phantogram's droning electronica filling out the top billings this year. MMMF has been known for it's eclectic lineups in the past but this year it appears festival organizers to have embraced it's reputation as a smorgasbord  of different tastes. To keep things straight for our readers I have broken down the lineup into genres. There may be some overlap in these groups so please don't crucify me in the comment section (I get it; Portugal, the Man released an electronic album in 2007)
"Rock"
Widespread Panic
Portugal. the Man
Trampled by Turtles
The Hourglass Cats
Black Bottom Lighters
Tommy Ash Band
"Dance"
Passion Pit
STRFKR
Trombone Shorty & New Orleans Avenue
Thievery Corporation
Phantogram
Karl Denson
"EDM"
Break Science
Beats Antique
Sunsquabi
So there you have it! A festival that appeals to near any group of friends, unless of course you only listen to hip hop as there is none to be found this year! 3-Day Passes are on sale now for $135 with single day passes for $50 + fees.