Concerts
Recounting the Skrillex Takeover Tour Pt. 1
Late last year Skrillex announced his Takeover Tour, where he would be playing multiple consecutive nights in 4 cities across the globe, in some of the most intimate and iconic venues around. However, it has become clear that these Takeover shows represent much more than the former screamo front-man's ability to ruthlessly conquer an entire city from behind the decks.
The Takeover Tour, which left San Francisco in absolute ruin after this past week, has now moved onto Brooklyn, with Barcelona and Amsterdam still in Sonny's wrecking path. The Takeovers are much more than just a typical set of concerts; they are a preview for what we can expect to come this year from one of the world's most prolific producers and performers.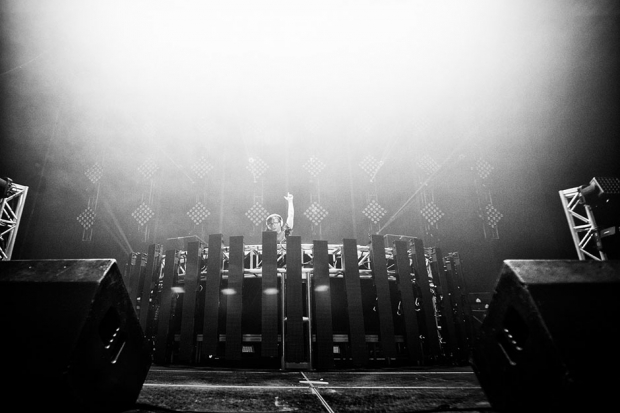 Thursday night, we arrived in San Francisco where Claude Vonstroke was lending his support by energizing an eager and enthusiastic hoard of excited fans. Claude's signature Dirty Bird sound rattled the Warfield Theatre, and finally as "the most famous haircut and glasses combo in the biz" stepped up to the decks, the collective energy in the building was already pulsing.
Mayhem ensued as OWSLA's head honcho unleashed a skull-crushing arsenal of new material. Grumbling low end bass stampedes were abruptly twisted into screeching rapid-fire sirens, big room breaks are slashed in half with spastic samples. A grimy rework of Queen's classic hit, "We Will Rock You" made heads spin, while a jaw-dropping edit of "First of the Year" was echoed by a bloodcurdling scream from the audience to "CALL 911 NOW!"
A new collaboration with fellow bass music veteran Kill The Noise and vocals from the all time greatest hype-man, Fatman Scoop, broke out as the big room drop quickly flipped into Missy Elliot's ultra-famous rump shaker, "Work It". Watching from the balcony's birds eye view as lasers blast the crowd and smoke cannons shroud the venue, we realize we are experiencing Skrillex showcasing what he has had under the hood for quite some time now.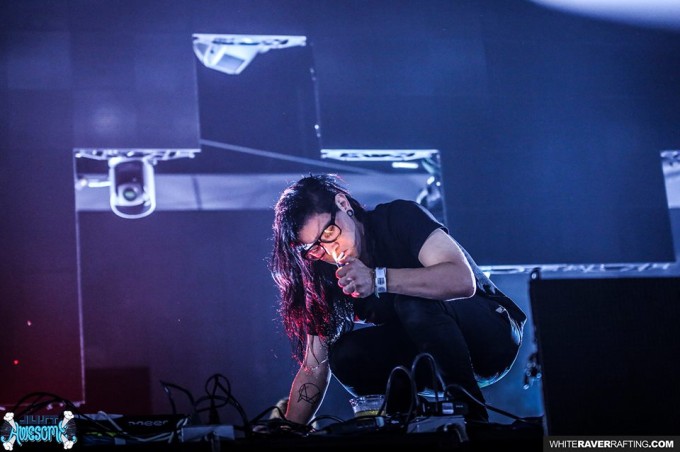 Saturday night's show at the famed Bill Graham Civic Auditorium was Skrill's final show for the week, a week that the headliner himself described as, "one of the best weeks of my life." The show was intensified by A$AP Rocky, Alvin Risk and Tokimonsta. A buzzing cloud of anticipation inside the iconic concert venue riled up the crowd before Skrillex took the stage.
Skrillex's set each night boasted improvements on the previous night's bout, and with each night came a more refined set, as the king of bass music proved exactly why the throne and crown are his. Seamlessly cruising between a wide range of tempos and genres, Skrillex had San Francisco in the palm of his hand.
The galvanized crowd bopped and jumped to "Make It Bun Dem," as the recently gold status certified record shook the venue's foundations. A thumping, dance-tempo electro rework of I Am Legion's "Choosing For You" delivered a throbbing punch. Ellie Goulding's sweet vocals on "Summit" gave fans a minute to catch their breaths as we all swayed to the track's pounding bass kicks.
Along with an emotional moment of remembrance for the Bingo Players Paul Bäumer as "Cry" played through the speakers, an atmosphere of love and appreciation for each other was apparent throughout the historic theatre.  A set packed with even more new material, and genuine love from Skrillex to his adorning fans was capped off with a high-octane encore with A$AP Rocky accompanying Skrillex live on stage for their party-fueling trap hit, "Wild For the Night."
However, the full magnitude of the Takeover experience hit me the previous night when Skrillex demolished Oakland's Fox Theatre; a night that is branded in my mind as one of the best electronic performances I have ever seen.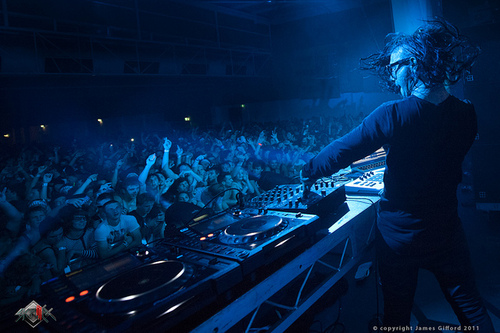 Friday night's set at the Fox Theatre in Oakland was a night for the record books. Within minutes of Skrillex assuming his position before his constituents, one thing was certainly clear: the energy he was exerting from his pulpit of lights was beyond anything I had ever experienced. The crowd reciprocated as Sonny bulldozed us with pulverizing new tracks, intertwined with fresh edits of some of his classic crowd pleasers.
He was moving at hyper-speed, broadcasting from a different dimension. His set was accentuated by a strikingly palpable energy in the theatre; it was almost as if he was running circles around himself from the night before. Puffing plumes of smoke into the air, the king of dubstep wielded the microphone and the CDJ's in impeccable fashion, he was on fire; untouchable. Halfway through his set, it was even apparent from the booth as Sonny affirmed, "this is the best show of the San Francisco Takeovers, hands down." I could not agree more as I am completely captivated by his supernatural, commanding, yet eloquently humble stage presence.
Bootleg edits of "Kyoto" and "Ruffneck" thrust the crowd into motion, while new selections, reminiscent of the Skrillex of old, sent the house into sweat-drenched frenzies.  In a recent interview with Rolling Stone, Skrillex explained that his new material is best described as, "same fabric, but a new coat. A better coat." Friday night's performance in Oakland held true to that statement as the conductor of chaos warped old tracks into head splitting new drops, fresh sample work, and modified synth arrangements throughout.
His remix of Avicii's famed "Le7els" was artfully enhanced with a gritty electro treatment, and masterfully mixed with Skrillex's own 5th symphony, his "Cinema" remix. Hundreds of lighters and cell phone screens glowed in the theatre as his mind-bending set began to wind down. The Fox Theatre became a dark planetarium, illuminated by thousands of gleaming, flickering lights. I had never seen something so entrancing, so beautiful. Holding my lighter high, I closed my eyes for a moment and appreciated exactly what I had been a part of that night.
After a brief interlude, Skrillex began to close his performance with a new track. A dark, sadly sweet, melodic ballad, "DJ Ease My Mind" by Niki and the Dove gripped the audience before the electro build dropped into a brain rattling storm of sharp sirens, gushing bass, and soothing lyrical samples layered within.
Parting words by the modern day rockstar who took over a who city single-handedly, urged fans to, "love each other and soak in every moment," and as the house lights came on, not a soul moved. Frozen in place for a split second, stunned with goosebumps, everyone in attendance knew they had just witnessed something truly special. It was the greatest set I have ever been a part of, a night that will surely not be forgotten.
The Takeovers Tour shed some light on what Skrillex has been up to since his relative hiatus in 2013. Occupied with Dog Blood performances along side Boys Noize and a new partnership with fellow dance music royalty Diplo called Jack U, we didn't get to see too much Skrillex last year. But as he proved in San Francisco, and what Brooklyn, Amsterdam and Barcelona will surely find out soon, is that the past year's breather has yielded a slew of fresh, new, cutting-edge bass music.
Skrillex is on the war path, and with festival season just around the corner, his booming arsenal of sound bending, genre-blurring new selections is sure to make for many more dominating, incredible performances at this years most sought-after events.