New Releases
Skrillex x What So Not – ID [Live Rip]
To the untrained ear, the clip below may appear to be nothing more than a crappy soundbite from some mystical, New Age music festival. In fact, it is a sneak peek at what EDM heads have been waiting for since, well, forever…
[soundcloud url="https://api.soundcloud.com/tracks/128251718″ params="color=ff6600&auto_play=false&show_artwork=true" width="100%" height="166″ iframe="true" /]
It's no secret that Australian lovetrap duo, What So Not, has teamed up with the crown prince of EDM, Sonny "Skrillex" Moore, for a much anticipated collaboration. The buzz surrounding a Skrill So Not (as the internet has dubbed it) project surfaced in March 2013 after Sonny posted an Instagram photo of himself in the studio with WSN member Flume. We're willing to bet the above track is bound to appear on said collab upon its release.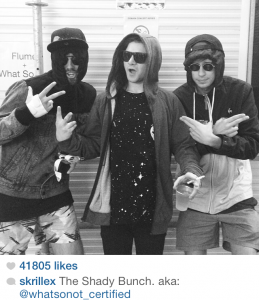 Chalk it up to coincidence, but Skrillz just so happened to drop this joint in What So Not's own backyard during his set at the acclaimed Beachlife Music Festival. Could this be a message from the EDM gods? It's only a matter of time before our prayers are answered and the prophecy is fulfilled…
P.S. both Skrillex and Flume are on the bill for Coachella this year sooo there's that. 😉
Comment and let us know what you think of the new sound! Also, shout out to Neighbors Hate Us for the heads up!
Skrillex Soundcloud
What So Not Soundcloud