Concerts
True Music Festival: Who to Not to Miss
With the True Music Festival less than 24 hours away and the set times released, it's time to pack up the car, put on your festival pants, and make those difficult decisions:  Who are the must-sees on the lineup?
Luckily for you, we've done our research so you won't have to.
That being said, seeing everyone you want to at the festival shouldn't be very difficult.  There are only two stages, and the time slots are staggered in such a way that only a few stressful decisions need to be made.  Is that going to stop us from telling you about all the artists you're about to see?  Of course not.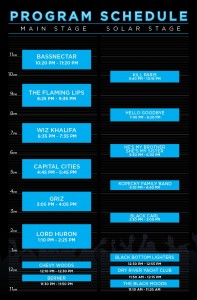 The Black Moods / Dry River Yacht Club / Black Bottom Lighters
Getting to the show early?  You should.  Those who have the enthusiasm to wake up early and get to the festival by 11 will have two choices for the first few hours of their experience.  Between 11 and 1 on the main stage, two rap artists, Berner and Chevy Woods will be throwing down trap beats and solid rhymes to start the day.  If that's not your style, then head over to the Solar Stage, where a trio of rock-based bands will be playing.
The Black Moods are the first band of the day to preform, and if 90's style grunge rock is your thing, then you'll enjoy kicking off the day with this grungy trio.
Dry River Yacht Club goes on shortly after.  If you like weird, yet suspiciously arousing female vocals, funky and peculiar instruments, and a big, loud sound, you can't miss these guys.
Black Bottom Lighters are a good 'ol fashioned ska group. Ripping solos, fast beats, and horn parts will give plenty of reason to jump around for their 25 minute set.
Black Carl is the next group we've set our sights on.  These local Arizonans have been playing around the state for a while now, and if you haven't gotten a taste of their sultry blues vibe, it's about time.  Their presence on stage is overwhelmingly fun, and if they're not melting your heart with some thick blues, they're making you move with funky riffs and beats.  Don't get caught missing these guys.
GRiZ is quite possibly the act that we are most looking forward to for Saturday.  After his latest release, Rebel Era, GRiZ has grown in popularity quite a bit, and we expect him to pull more than a few tricks out of his sleeve.  GRiZ is famous for mixing sexy guitar riff samples, soulful vocal bits, and funk solos with heavy electronic style beats.  It's sure to be one of the most exciting shows of the day, and a great opportunity to get warmed up for the day.  GRiZ goes on at 3:05, and there's no one else in that time slot, so unless you spend his entire set in the bathroom or something, we'll see you there.
[soundcloud url="https://api.soundcloud.com/tracks/86436922″ params="color=1b67db&auto_play=false&show_artwork=true" width="100%" height="166″ iframe="true" /]
You may not recognize Capital Cities by their name, but there is at least a 90% chance that you've heard Safe and Sound more than a few times.  This poppy electronic duo will keep you smiling and bouncing up and down for the entirety of their hour-long set.  If you miss them at the after party tonight, then we recommend catching these guys, if only to add some variety to your schedule.
[soundcloud url="https://api.soundcloud.com/tracks/8813997″ params="color=1b67db&auto_play=false&show_artwork=true" width="100%" height="166″ iframe="true" /]
He's My Brother, She's My Sister is a five piece folk-rock group that just oozes personality.  From the upright bass to the hot female tap-dance-drummer (she tap-dances on a giant bass drum while hitting other drums with mallets, it's truly a sight to behold), to the male/female harmonies, HmB, SmS is a massively entertaining and fun group that will have you slow dancing with your partner one moment, and jumping up and down the next.
The Flaming Lips have been praised for having one of the most entertaining live performances out there.  Their soulful indie vibe will give you some time to stop, collect yourself, and experience some feelings.  Their lead man, Wayne Coyne, has become notorious for his performance at Coachella, in which he put himself into a massive plastic bubble, and surfed around the crowd.  Will he do it again?  Maybe!  Will the show be good either way? Yes.
We've been paying attention to OWSLA's new recruit Kill Paris for quite some time now, and with his solid list of hits, remixes, and collaborative tracks, KP is likely to be one of the most energetic sets of the evening.  Although his set is only a short 35 minutes, his heavy electronic beats and wubs, at the very least, will be a perfect warm up for…
[soundcloud url="https://api.soundcloud.com/tracks/108692251″ params="color=1b67db&auto_play=false&show_artwork=true" width="100%" height="166″ iframe="true" /]
Bassnectar.  The godfather of EDM himself, Lorin Ashton has been laying down thick and weird dubstep since the 90's, making us dance and confusing our parents for as long as we can remember.  The last time we've had a Bassnectar experience was at HARD Summer, and we expect his performance at TMF to be no less devastating.  Get ready for trippy, philosophical visuals, a dazzling light show, and music that will make you dance in a way that you didn't know you could.
All in all, the lineup for TMF is diverse, strange, and absolutely massive.  We're thrilled to see how the festival pulls all of this off, and we'll be on the scene for every minute of it.
See you there.