New Releases
Chromeo: New Album Trailer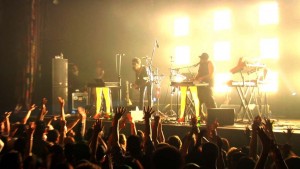 We've just received big news from masters of funk Chromeo! If you've been following the group on Facebook, Instagram, or any other social media outlets, you would know that the two have been working on a new album now for quite sometime. Using the hashtag "#newalbumoclock" followers have been able to see the progress of this much anticipated release.
This morning, the group released an exclusive trailer for an upcoming video for their track "Over Your Shoulder" which will appear on the album entitled, as we have just come to learn,  White Women.
Chromeo: New Album Trailer
Comprised of Dave 1 (brother of hall-of-fame DJ A-Trak) and P-Thugg, Chromeo has been turning out incredibly funky albums since 2004 with their debut album She's in Control. Since then, the group has been a part of numerous festivals and tours and have been featured on remix albums for artists like Boys Noize, Feist, and Mayer Hawthorne.
While the group has not officially announced a release date for White Women, we can expect it to be out around Christmas time, or sometime at the beginning of next year.
UPDATE: Chromeo has now released the full version of their first single, "Over Your Shoulder." Check it out here!