Concerts
HARD Day of the Dead 2013 Lineup Announced
With the dust from HARD Summer still in our eyes, nose, and mouths, one would think it would be difficult to imagine going back to the Los Angeles State Historic Park for another weekend of incredible music, people, and partying. However, with such a successful festival to look back on for the summer (and a few days of sleep), we're already geared up and ready for what is sure to be another kick-ass two days in LA at HARD Day of the Dead 2013.
HARD Day of the Dead 2013 Lineup:
Day 1: Skrillex, Nero, Boys Noize, Zeds Dead, Bloody Beetoroots Live, Masters at Work, Cirez D, Maya Jane Coles, Jack Beats, Benoit & Sergio, Kavinsky Live, Justin Martin, Gaslamp Killer, Soul Clap, The Magician, Oliver, Lunice, Nadastrom, Wolf + Lamb, Salva, Dusky, Claptone, Brenmar, Kastle, Doorly, Sanfuentes 
Day 2: Deadmau5, Calvin Harris, Pretty Lights, Eric Prydz, Cut Copy, Giorgio Moroder, Baauer B2B RL Grime, Jamie Jones, Skream, Duke Dumont, Destructo, GTA, Tensnake, Kill Frenzy, Amine Edge & Dance, Paper Diamond, Tokimonsta, David Heartbreak, Jackmaster, Green Lantern, J. Paul Getto, Maribou State, Tourist, Blood Diamonds, Carbon Airways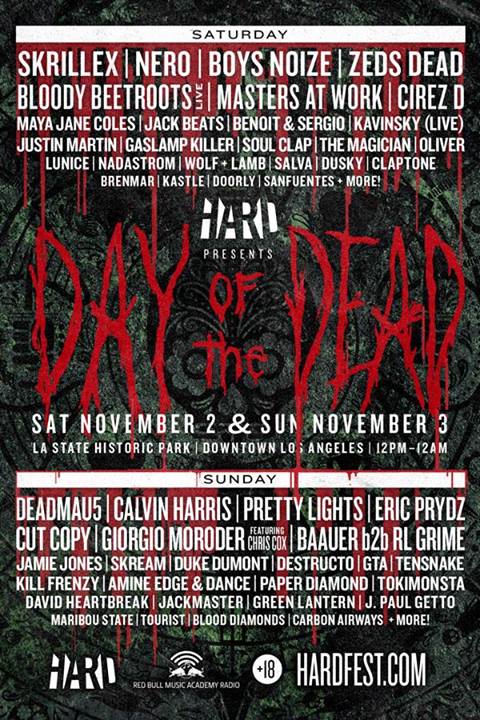 HARD Day of the Dead will be taking place Saturday, November 2nd and Sunday, November 3rd, 2013 at the LA State Historic Park in Downtown Los Angeles from 12PM – 2PM
Taking a look at last year's HARD Day of the Dead in combination with this year's HARD Summer, here are some technical issues we're sure will be addressed:
Security will be MUCH better: If you arrived early to last year's HARD Day of the Dead, kudos. If you were one of the late comers, you probably experienced a crowd of impatient people literally ripping the barricades apart and throwing them to the side as a mob followed behind trampling over whoever stood in their way. Not fun. 
The festival will be 2 days: Another huge problem for HARD Day of the Dead last year was making what used to be a two-day event a one-day event. This resulted in WAY too many people at the park at one time and made for some terrible accidents and fights among concert goers. 
There will be free water refills: One of the best decisions the team at HARD Presents… made for this year's HARD Summer was the installment of FREE water refill stations scattered around the park. This made customers very happy and hydrated! 
For an updated lineup and promo video, click here!