Concerts
HARD Summer 2013 Set Times Released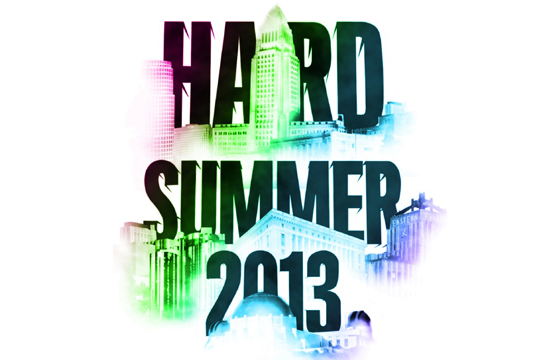 The HARD Summer 2013 set times have officially been released and can be found on the HARD Summer home page for those excited as us to see. I think I speak for the rest of the JNTM staff when I say that this year's schedule is just as frustrating as any other festival. For instance, how can you schedule Duck Sauce at the same time as up-and-comer Alex Metric? Gesaffelstein at the same time as Eats Everything?! Gary Richards, how could you?
In all reality though, there really isn't much Richards aka Destructo could have done to make the schedule any easier for die-hard EDM fans. To be completely honest, I'm actually glad the schedule is so tough. In years past, and I think many can agree, I've made my schedule decisions in advance and stuck to them without hesitation, leading me to miss some incredible new artists. Now, I've decided to completely abandon the my strict scheduling and go with the flow.
Since the schedule has been released, we here at JNTM have put together a list of a few must-see acts, scheduling surprises, and acts to pass for your viewing pleasure:
HARD Summer 2013 Must-See Acts
DJ Green Lantern: One of the more underground DJ's to be playing HARD Summer this year, DJ Green Lantern was the official DJ for Shady Records and has been featured on multiple mixtapes. He is sure to blow audiences away with live scratching and incredible mixing.
TNGHT: One of the best duos in EDM right now, TNGHT has taken the Trap scene to extreme levels. You won't want to miss these two since they've only recently started performing together live.
Cashmere Cat: 25 year-old Norwegian DJ Magnus August Høiberg is a must-see at this year's HARD Summer because of his genre-bending style and incredible remixes. Since 2007 Cashmere Cat has been climbing the ladder so you'll definitely want to catch him while he's on his way up!
Dog Blood: Boys Noize and Skrillex. Need I say more? Check out their Coachella set and you'll see why these two are a must-see this year.
Claude VonStroke: Founder of Dirtybird Records, Claude Vonstroke has been well known in the underground Deep House movement seemingly since the start of the genre itself. Playing for 2 hours this summer, you'll want to see every minute for the most booty shaking experience at HARD.
Hard Summer 2013 Scheduling Surprises
Bauuer: Headlining the Harder stage and closing out the entire festival, Baauer is a shocker because he has been having such early set times at festivals like HARD Day of the Dead 2012 and Coachella 2013. The only thing that leads one to believe his set time: Harlem Shake.
Tommy Trash: Another DJ playing a bit too early, Tommy Trash is a household name these days and could easily be playing at a time like Kill the Noise or Alex Metric…
Brodinski: 4PM seems a little early for a DJ that's been selling out places like the Boiler Room and other festivals around the world. Given the stage he's on, his competition is a little steep, however.
Hard Summer 2013 Acts to Pass
Bassnectar: How Bassnectar is headlining the Hard Stage on Sunday night is more than a little shocking. Yes, he has an incredible live light/video show, but since the release of his newest album, the DJ is pretty much a "push play" performer.
Azealia Banks: When your options are Gesaffelstein or Breakbot, you definitely pass on Azelia Banks. Plus, she's been getting in tons of trouble because of her recent arguments with DJ's like Baauer and Diplo after she stole their music to sing on. Seriously.
Flux Pavilion: As a Flux fan I hate to say it, but with such a stacked lineup this year Flux Pavilion is an act to pass. Competing with the end (and most likely best part) of Dog Blood's set, and Deep House up-and-comer Julio Basmore's set, it's advised to skip out on a DJ of the dying dubstep.
Agree? Disagree? Let us know what YOU think on our Facebook page!