Lists
Top 5: Trap Music Producers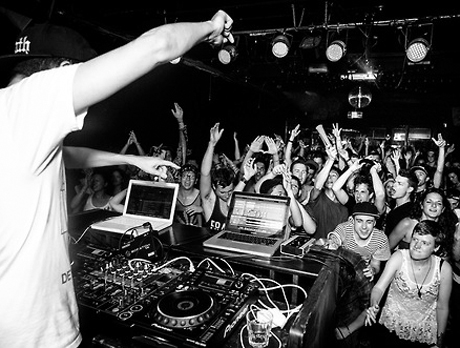 The popularity of EDM (Electronic Dance Music) has exploded over the past three years thanks to massive festivals like Electric Daisy Carnival, and Hard Presents as well as super producers deadmau5, Skrillex, and Diplo. The genre has thrived and birthed a flurry of new sub-genres. First came Dubstep an import from the UK characterized by heavy oscillating bass lines and reverberating drum patterns. Next, came Dutch House and Moombahton both of which use reggaeton drum loops and high pitched rhythm sections, Moombahton became the "it" subgenre of 2011 with everybody from Afrojack to Moby jumping on the bandwagon.
This year the sub-genre flowing through every speaker at the most popular raves and festivals is without a doubt Trap. Less dance oriented than traditional house, Trap combines the elements of hip-hop, hardstyle, and dubstep to create a slow paced bass heavy experience that has crowds going nuts. Here is a list of the 5 best up-and-coming Trap producers.
Baauer
After releasing a free EP on Diplo's prolific label Mad Decent Baauer has become the face of the Trap movement performing at Hard Day of the Dead, and currently embarking on his first headlining tour. Baauer's combination of hip-hop vocal samples and incredibly clean production makes him an instant hit at any festival. Here is his bass heavy standard "The Harlem Shake".
http://www.youtube.com/watch?v=Bk1_DbbzSdY
Bro Safari
Rising to fame through his work with Moombahton wunderkind Dillon Francis. Bro Safari has found his own niche producing some the most soul crushing Trap music since the genre began showing up at festivals in the beginning of 2012.  Here he is at his best sampling Notorious B.I.G's "Suicidal Thoughts" in "Scumbag"
Flosstradamus
Next up is Chicago based duo Flosstradamus whose remix of Major Lazer's Original Don arguably marks the beginning of Trap genre entirely. The biggest name on this list, Flosstradamus has performed at Coachella, Lollapalooza, and South by Southwest. Having temporarily ditched their standard hard house roots here is the track that started it all, and got everybody shouting "RUN THE TRAP!"
UZ
Releasing two mixes in the past year affectionately titled Trap Shit I and Trap Shit II. UZ is the  one producer on this list to really keep you're eyes open for. While he has yet to gain a large following in the US. UZ's brand of rap heavy Trap has garnered him much success across the pond. Here is his remix of Foreign Beggars Goon Bags.
Kid Kamillion
Finally, we have Kid Kamillion perhaps the least exposed producer on this list. Now, while most festival and EDM fans have probably never heard this guys name. They have without question heard his rework of A-track's remix of the Yeah Yeah Yeah's "Heads Will Roll." At this year Hard Haunted: Day of The Dead this track was a standard for every Trap DJ. Having only officially released 4 tracks it will be interesting to see what this Kid can do in the future.
http://www.youtube.com/watch?v=Rn2KgeUf_mI