Concerts
Life is Beautiful Festival, Las Vegas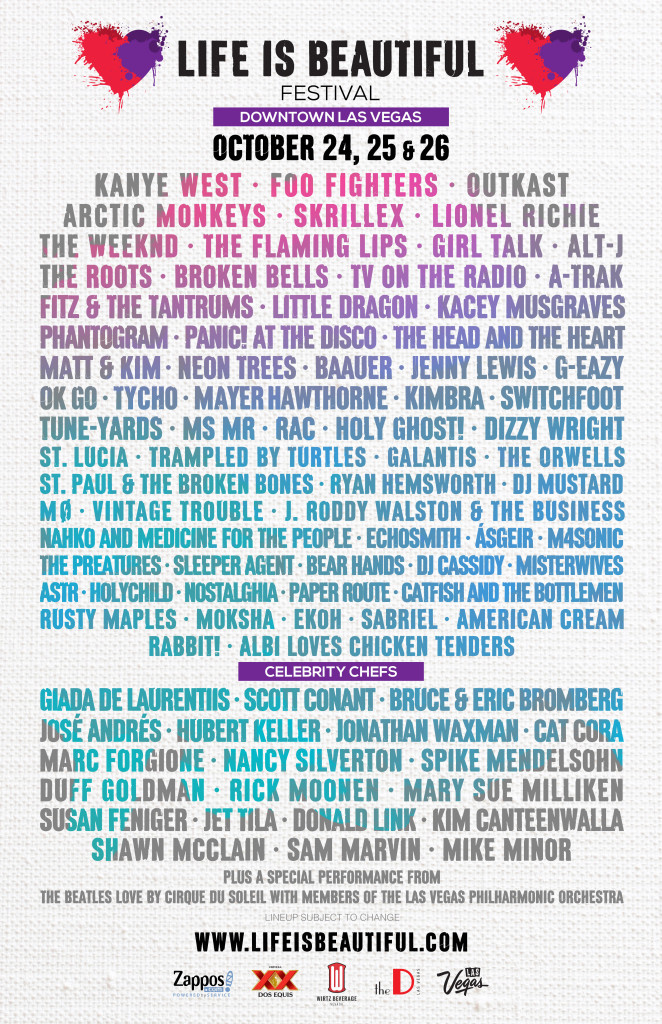 Life is Beautiful festival Founder Rehan Choudhry describes this incomparable music, food, art, and learning festival in downtown Las Vegas with his simple, yet refreshing intentions for the event; "Life is Beautiful is about inspiring people. It's about offering messages of hope and encouragement through a unique experience."
After the success of its 2013 debut, Life is Beautiful has grown from 2 days to 3 unfathomable days loaded with internationally established musicians, chefs, artists, and speakers. Choudhry ultimately wants to make a connection between the company's core message of beauty and the festival generation by reminding everyone "that you are never alone, and life IS beautiful". This festival brings together and gives attendees the opportunity to actively engage and witness the beauty in all types of art.
This year's lineup embodies Rehan Choudhry's vision of togetherness with its eclectic collection of nearly 70 notorious musicians representing different genres. Showcasing Hip-Hop legends like Kanye West and OutKast, rock icons such as the Foo Fighters, Arctic Monkeys, and Flaming Lips, with electronic music icons Skrillex, A-Trak, Baauer, and RAC united with other notable artists Lionel Richie, Alt-J, Little Dragon, Tune-Yards, and TV on the Radio just to name a few.
The unimaginable list of musicians is blended with a lineup of world-class chefs and brewers, mixologists, and wine-makers creating a rare culinary experience. Alongside the four outdoor stages is a Culinary Village featuring the best of local Las Vegas restaurants, handcrafted beers, wines, and spirits, and chefs onstage.
Dropping the music and culinary lineups adds anticipation for the dropping of the art and learning lineups happening very soon. The Life is Beautiful festival will exhibit street art installations, fine art displays, performance art, and inspiring speakers from around the world.
Stay tuned to Just Noise To Me for more details coming soon!
Life is Beautiful Festival, Las Vegas