Concerts
The Ultimate Guide to HARD Summer 2014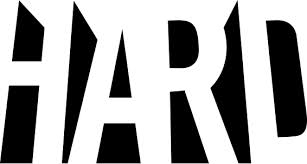 As HARD Summer 2014 quickly approaches, it's time to start gathering your crew and making your way to the Los Angeles area for what is to (hopefully) be the best HARD Summer yet. With such an incredibly diverse lineup, and a new, kick-ass venue, HARD Summer 2014 is set up to be one of the greatest festivals of the entire year. But will it deliver?
Like any festival, decisions and sacrifices will be made. With five stages spanning across a much wider venue (Whittier Recreational Park — just north of the Downtown LA area), it's almost vital to have some sort of personal schedule to follow. Or not…
HARD SUMMER 2014 MUST-SEE ACTS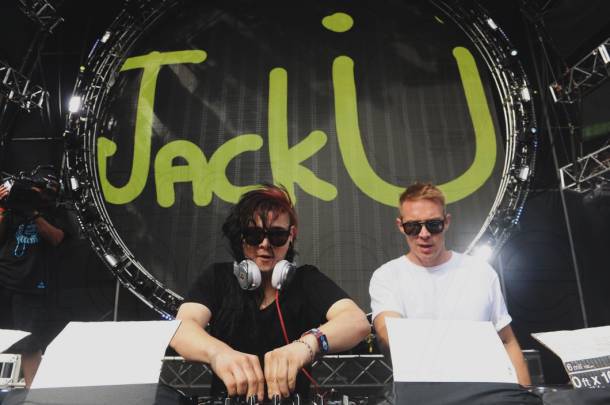 With this being my fifth HARD Summer (not bragging, just establishing some background), it's easy for me to say that HARD always brings the most talented DJs and producers around. This year, however, it almost goes without saying. With a multitude of genres occurring across the park, it's going to be difficult to watch everyone you want, so here are some of the ones you should make an effort to squeeze into your schedule.
Brillstein — HARD always likes to bring some Los Angeles natives into the mix, giving the festival its own home-grown vibe. This time it just so happens to be Thee Mike B's most recent and funky project. Since the festival starts so early this year, there's no reason why you and the homies can't show up and get things started properly with Brillstein. If you're into deep, rump-shaking funk, Brillstein will be delivering some serious grooviness that you should not miss out on.
Trippy Turtle — This one is brutal because it lines up with Dillon Francis, but if you're trying to see one of the best up-and-coming producers live and in action, this is the dude to see. Trippy Turtle has been making some remarkably huge waves as of late, and HARD will be the perfect stage to see him strut his stuff.
He has been instrumental in the rise of the Jersey and Baltimore Club sub-genres and this young gun's skills are creatively reflected in every live performance he puts on. Trippy Turtle will definitely be a wise choice for anyone looking for bouncy, out-of-the-box goodness.
DJ Mustard — If you were able to watch the live stream of Skrillex' Mothership Tour at Red Rocks (or even better watch it IN PERSON), you most likely caught DJ Mustard. He's the man behind some of the most infamous pop/ hip-hop fusion songs you hear on the radio and also is extremely mean on the decks.
Mustard's set will undoubtedly be one wild party, so if you're craving a hard, trap and hip-hop influenced sound, and you're trying to get down with everything you've got, leave it all at DJ Mustard's stage.
A-Trak — It goes without saying that this guy is a living DJ legend. So why see him when you can see other awesome DJs instead? First of all A-Trak has been DESTROYING his live performances lately. If you've been able to catch any of his recent Instagram posts, you'll see that the dude is scratching better than ever and playing out one of the most diverse set lists you will ever see. Fact.
Coming off the recent GoldGoneWild tour, the Fool's Gold Records boss is white hot, and with HARD coming up, you can most certainly expect this renown veteran to put out an amazing performance this weekend. With a handful of DMC championship titled under his belt, as well as production credits with some of hip-hop and dance music's biggest names, A-Trak is a marquee act that you absolutely should not pass up on. Trust me.
Jack U — Another fairly obvious choice but, come on. Who would give up the chance to see Skrillex and Diplo share the stage together? They haven't played a festival this big since Ultra and that was just a shit show (the good kind).
These are arguably the two biggest, most dominating American DJs and producers in the game right now, and I'll bet the house of the fact that these two are going to deliver a larger-than-life performance at HARD. Not to mention that LA is Skrill's hometown, so you know he will be putting out for his city in impeccable fashion. Sonny and Wes onstage for an hour and a half? Yes please. Move over Carnage. Go stage dive some more…
HARD SUMMER 2014 SCHEDULING CONFLICTS
Both days are packed to the brim with talent, so naturally there are some pretty major scheduling conflicts. This obviously all depends on what you're into and who you're trying to see, and thankfully, HARD is the festival that can deliver a completely unique festival experience to all of its attendees, because of its incredible diversity. Some of these conflicts might not even exist for you because you're only going to see Tiesto though. Hey, that's cool too, bruh.
Saturday:
GRiZ vs Bro Safari — Does one get funky as fuck or so turnt your face hurts? This is a toss up because I'm a huge GRiZ fan but I also love making that "who just shat in my lap?" face when Bro Safari drops something too nasty. With GRiZ making sweet electro-soul laced with sexy saxophone, and Bro Safari bulldozing masses with waves of head-crushing bass, taste plays a big part in making this tough call.
Tchami vs Alex Metric — The real question here is, "how much booty shaking do I want to do?" Either way you're making a great choice. Are you going for that future-house sound Tchami has mastered over the past year or that silky, ultra-soulful, funky kind of booty shaking only Alex Metric can provide?
Flosstradamus vs Dusky vs What So Not vs Oliver — Woof. Turn up or boogie down? If you're a ratchet bitch, go to Floss, obviously. But, if you're into What So Not's ambient, yet party-fueling sound, it'll prove to be another tough call up against the likes of Oliver's unmatched funky, nu-disco finesse. To make this even more difficult, Dusky will be serving up hot, fresh booty-house vibes right at the same time. This one is about to be a doozie.
Baauer vs Justin Martin vs Jack Beats — Good Christ. First off, after the "Harlem Shake" phenomenon, Baauer chilled out for a little bit, and now has returned with some pretty incredible tracks. On the other hand, Just Martin killed in the Dew Lab at this year's Coachella, and he is one of the unparalleled masters of the booty bumping goodness that is DirtyBird Records.
But then there is Jack Beats. The UK-bred OWSLA duo is known to spin a wide variety of different sounds, but are always known to bring a good time, as well as a raucous set. These two vets are definitely a force to be reckoned with too, making this triangle of heavy-hitters an incredibly difficult call to make.
DJ Snake vs Kill The Noise — Another tragically difficult decision to be made here, although it really once again comes down to taste. Kill The Noise is going to offer his OWSLA/Slowroast Recs hybrid sound; a mix of head-splitting dubstep and wild electro-house. KTN will surely deliver the one-two punch with his veteran experience performing at HARD, and will undoubtedly put on one of the grimiest sets of the weekend.
Next, consider DJ Snake. The Parisian Mad Decent superstar has taken over the world this year with a handful of twerk-inducing collabs and originals that turn dance floors into saunas instantly. Taste remains key, but for those just looking for a good performance, this one is nearly impossible to call.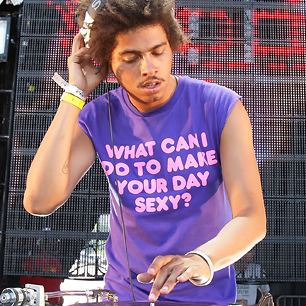 Seth Troxler vs The M Machine vs Jack U — This one might be the most difficult call on Saturday. Diversity, as welcomed and appreciated as it is on a lineup this large, is coming back to bite us in the ass as Saturday's final sets pose this incredibly tough decision. Off to party with forward-thinking beat maker Seth Troxler, or will you make your way to one of the biggest, most anticipated headlining sets of the entire festival circuit over at Jack U? 
And as if that wasn't hard enough to call, throw the M Machine into the discussion and it becomes all the more difficult. The OWSLA championed trio will be throwing down their brand of futuristic, fresh, hard-knocking bass music at the same time. 
Sunday:
Milo and Otis vs. Wax Motif— Sunday afternoon offers its first conflict as Wax Motif and Milo and Otis take the decks at the same time. To choose between the up-and-coming trap duo who are fresh off Skrillex's Mothership Tour, and funky, techno guru who frequently collaborates with Destructo will prove to be a difficult test of tastes.
Mercer vs. Hannah Wants– Both of these performers have some serious talent to showcase at this year's HARD. Both bred in the house genre, these two have respectively taken club music to their own realms, and each pack some noteworthy talent.
For the type looking for an immerse, deep house experience, look no further than Hannah Wants (who is making her first US appearance this weekend). However those looking to party down to some of the hardest electro-house out there, Mercer will absolutely be the set for you.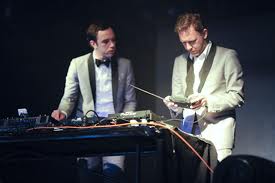 Clockwork vs. Shiba San vs. 2manydjs–  This conflict might be overlooked, however, with some thought, you'll find this one to be just as tough as most of the others. Shiba San is going to take his crowd through a variety of different deep and funky soundscapes, while Clockwork is going to do what he is best at. Clockwork is going to deliver a mind-bending, teeth-grinding set that will be an absolute party from start to finish.
Then there is 2manydjs. The Belgian duo have been around forever and have produced some of dance music's most creative outputs in the last two decades as either 2manydjs or their live collective Soulwax. Anyone who appreciates where all of this came from should definitely give 2manydjs a gander, I promise it'll be worth your time.
Trippy Turtle vs. Dillon Francis– Probably the hardest toss up of the whole weekend here, folks. Cat master and festival headliner Dillon Francis is slated to play at the exact same time as on of the most promising up-and-coming names in all of dance music, Trippy Turtle. Both will surely deliver amazing bouts from behind the decks, however unfortunately this painstaking decision will have to be made.
Trippy is going to offer a bubbly, light, bouncy experience, complete with dripping synths and bedroom-rattling remixes. Dillon is going to bring the party like only Dillon Francis knows how. Who knows, DJ Hanzel, or even DJ Rich As Fuck might even make an appearance at Dillon's set. Either way, this one will most likely be a game-time decision.
Maya Jane Coles vs. Tiesto vs. Nero vs. Brodinski– Oh, brother. We have the return on UK-trio bass masters Nero, going on at the same time as Bromance authority Brodinski throwing down his own meshing of deep, dark techno and filthy hip-hop.
As if that wasn't difficult enough, you also have to choose between one of the biggest DJs who ever lived, Tiesto, playing at the same time as Maya Jane Coles. Tiesto will bring the world-celebrated house and club sounds that he helped create and popularize over the last twenty years, while MJC will bring her meticulous brand of silky, sexy deep house to the mix. This four-way talent cluster caps off the festival, leaving one of the hardest calls for last.
HARD SUMMER 2014 VENUE LAYOUT
One of the best things about this year's HARD Summer is the new venue. Whittier Narrows Recreation Area is almost three times larger than the Los Angeles Historic Park (HARD's former home) and offers guests a much GREENER atmosphere. I think I speak for most of the HARD ticket-holders when I say I'm very much looking forward to leaving the festival sans dust and wood chips.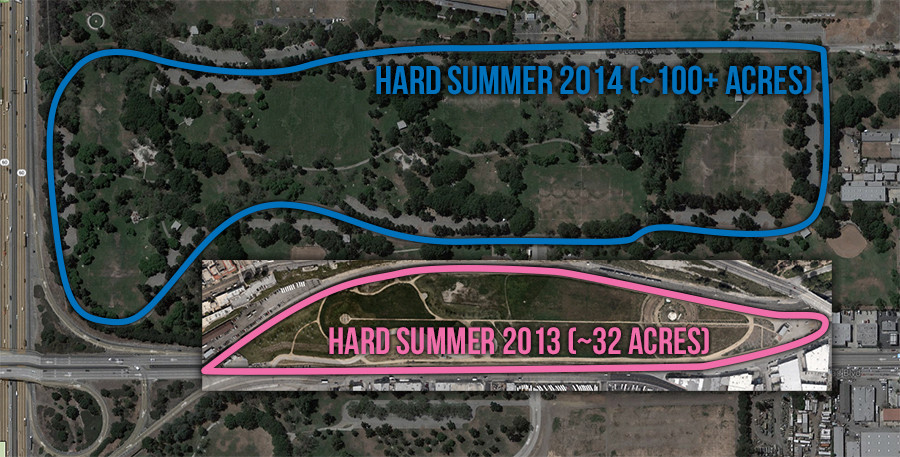 The new venue offers guests a TON of strolling area compared to the Historic Park's high-traffic try-not-to-run-into-people areas. My hopes are that with so much additional space, the festival will be able to accommodate attendees with plenty of bathroom areas. Although last year was fine (for me at least) there still seemed to be an alarming number of drunk white girls screaming "I'M GONNA FUCKING PISS MYSELF!"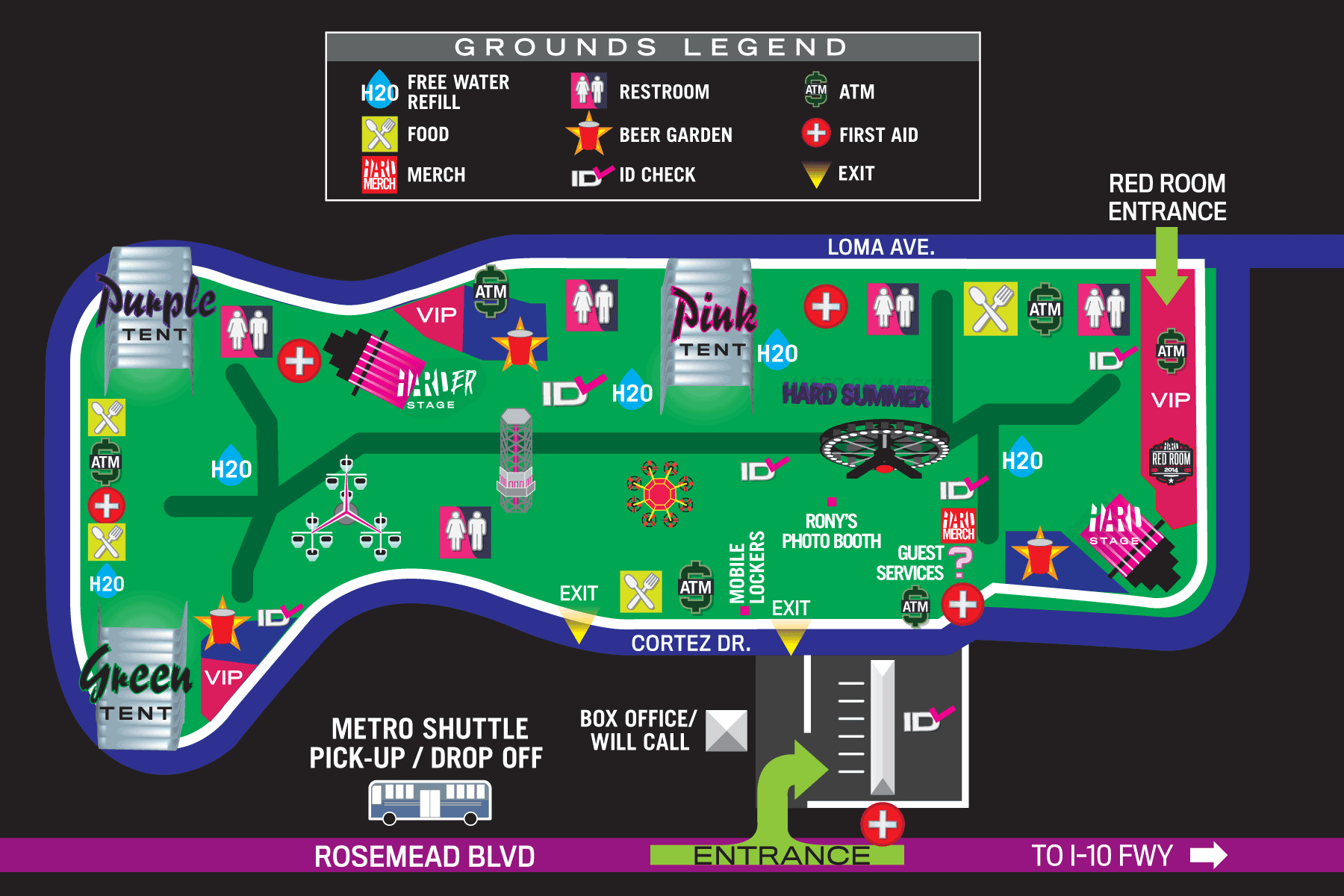 TRAVELING TO HARD SUMMER 2014
As always, HARD makes it incredibly easy for you and your crew to get to the festival. By train, cab, uber, or hooves, you can get to Whittier Park for next to nothing. Or absolutely nothing. Take a look at this dope ass pic: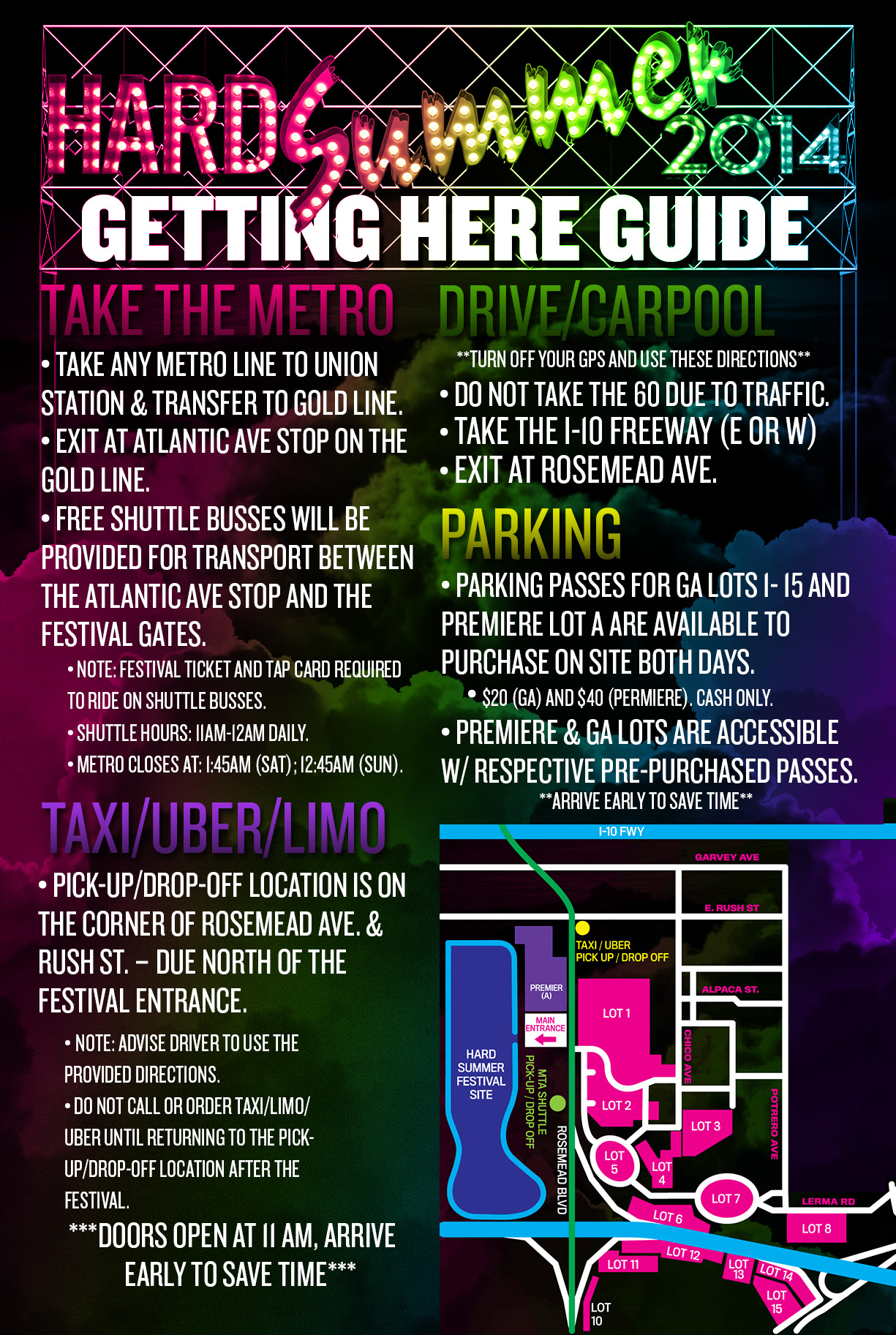 Welp, that about sums up everything you need to know about this year's HARD Summer. Have fun, be safe, and dance your little tush off!