Concerts
Zomboy Fills Avalon with "Bad Intentions"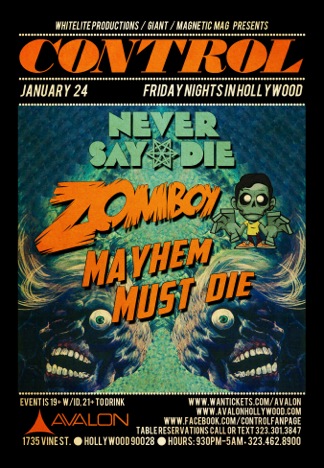 After years of anticipation, last Friday at Avalon I finally got the opportunity to see Zomboy throw the fuck down, and that he did. Coming out with his notoriously aggressive, hard-hitting dub step, the crowd matched the tempo as Zomboy incited a thirty-foot mosh-pit that got buck as fuck for his entire set.
Paving the way for Zomboy was the fire producer, MUSTDIE, who released a tornado of trap in the club, absolutely murdering his "dream show." He also gave us a taste of his new collab with Datsik, which was nothing short of impressive and of course, dirtier than Borgore's bed sheets.
Joshua's background in sound engineering truly shows in his production, as he's managed to create the cleanest dirty sounds I've ever heard, which were straight mind-blowing live. He eagerly unleashed a track that he finished just that morning—a bigroom house tune utilizing the sample "what the fuck!" So be on the lookout for that in the future. His Skrillex influence also showed through as he dropped "Scary Bolly Dub" along with countless others.
In conclusion, if my hangover that ensued was any indication of Zomboy's future plans in the EDM world, it is safe to say that he's "Here to Stay."
For more on Zomboy, check him out on Facebook, Twitter, and SoundCloud