News
TNGHT Announces Breakup? Perhaps…
Can it be that one of our favorite contemporary DJ duos has disbanded for all eternity? Please say it ain't so, we're terrible with goodbyes…
Friday night, international trapstars and frequent Yeezus collaborators, TNGHT, released a brief video entitled "Waning Moon" which may or may not imply an indefinite hiatus.
The video is an ominous depiction of the group members Hudson Mohawke and Lunice performing live peppered with flickering images of menacing storm clouds and their trademark crescent moon. It ends with a clip of the two producer/DJs  saying thanks as they close out their HARD Summer set with OutKast's "Int'l Players Anthem".
The YouTube clip was released with a message that reads "Until Next We Meet" which many speculate is a clear indication of a permanent split. That would seem logical had Lunice not tweeted just hours after the video went up:
There's a difference between a break up and quality control. Think about it.

— Lunice (@Lunice) December 28, 2013
Plot twist: it's not a breakup. Then what in Yeezus' name is it? And is it final? The tagline does sort of suggest that we will be seeing more from the trap lords in the future.
We got to experience TNGHT at both Coachella and HARD Summer, as if we weren't already fascinated by their dark, innovative approach to instrumental hip hop. The group is revered for combining their heavy hitter trap sound with intense minimalist visuals during their live performances, making them one of our favorite acts to watch in 2013. It's safe to say we were quite concerned upon hearing the rumors.
But let's all just calm down for like five seconds and think this one through, okay?
Canadian-born Lunice and his Glaswegian parter in crime, HudMo, are clearly still on the rise— this summer they produced tracks for Kanye's tour de force and there have been talks of a Watch the Throne 2 collab. Not to mention, they have yet to produce a full-length album of any sort. Nevertheless, they threw some of the most mesmerizing sets of the past year.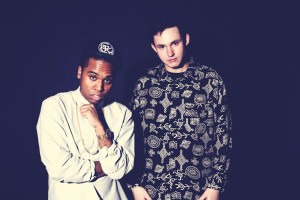 Could "Waning Moon" just be a brief pause in the seemingly overnight rise to stardom of two EDM underdogs? Or perhaps the symbolic end of an era, giving rise to a new incarnation of the TNGHT project christened TMRRW? Or maybe it's the duo's way of reining in the new year with some of that "y'all ain't ready for this 2014 next level type shit". Like when all your friends stop eating Ben & Jerry's and wear matching tanks to the gym on January 1st (though a boastful New Year's Twitter Resolution doesn't quite seem like TNGHT's style).
Regardless, we're all waiting anxiously to see what other information will surface in regards to the group's whereabouts whether they remain a group or not. Be sure to comment and let us know what your thoughts are regarding the message behind "Waning Moon".
With that, we send you all our best regards and wish you a Happy New Year.
Regards.
You can access TNGHT's twitter account here, as well as their Soundcloud.