Lists
Top 5 Musical Comedians
Music and song writing in its self is an art form attempted by many and perfected by a select few. You can argue that rap and hip-hop are hardly an art form when so many songs have a central theme of money, clothes and hoes. So many times country music ends up repetitively twangy while rock and roll can entail a rag tag jumble of electric guitars and loud noises.
While all of those are accurate observations, few elite comedians around the world have taken common music and turned it into an entirely different listening experience. What you know or think you know about music and its usual content is constantly challenged and met with laughs and occasional head shaking. Consider these musical comedians as the modern day "summa-cum-laude" of lyrical hilarity.
1.Flight of the Conchords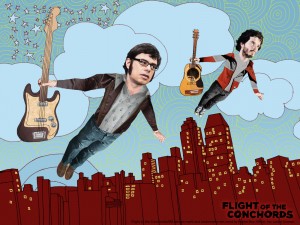 Hailing from New Zealand both Jemaine Clement and Bret McKenzie joined forces in college in 1998 to create the ultimate comedy duo. While majoring in theater and film, Jemaine and Bret began composing music and skits together that would later be dubbed as comedy gold. Well known for their songs " Most Beautiful Girl in the Room" and "Business Time", the two paved the way as one of the first comedic musicians to have their own television show. In 2008 their album titled "The Distant Future" was awarded a Grammy for Best Comedy Album. The alias Rhymenocerous and Hiphopopotamus continue to be a beacon of hope to world wide comedic hopefuls and provide constant laughs still to this day.
2.Lonely Island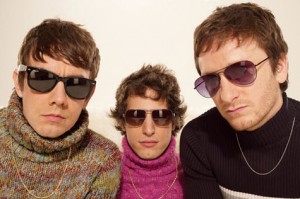 Comprised of Akiva Schaffer, Jorma Taccone, and SNL star Andy Samberg, the group Lonely Island brought national audiences to their knees in over-the-top comedic lyrics and music videos. It wasn't long before the trio was taking their knee slapping music from the SNL stage to professional recording studios in 2001. After releasing the "Wack Album" featuring musical guest P Diddy and comedic actor Paul Rudd, it was clear to the world the group had made world wide noise along with iconic friends. Songs like "Mother Lover" and "Dick in a Box" had the world gasping for air with the help of pop icon Justin Timberlake. Later hip hop stars like Akon and T Pain were featured in Lonely Island style music as well as rock legend Michael Bolton. Nothing yells their "Like a Boss" approach to music louder than, "I Just Had Sex".
3.Bo Burnham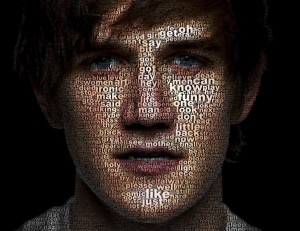 Rather than walk the line between nerdy and funny, Bo Burnham combined the two concepts in to a lethal combination of lyrics and word play. A young YouTube sensation, Bo began writing and performing his music in his room at his parents house at the age of 16. Such works as "Bo Fo Sho" and "New Math" got notable recognition world wide as it appeared that Burnham would be an almost over night internet sensation. Never looking back, Bo took the opportunity and ran with it  acting as a one man band creating more music with taboo content and puns. His  "Words Words Words" album released March of 2009 simultaneously earning him a Comedy Central Tour the same year. "When life gives you lemons…odds are you just found lemons" is a justifiable outlook on life as well as a small glimpse what is inside the head of comedic prodigy Bo Burnham.
4.Stephen Lynch
Considered a "Comedy Bad Boy", Stephen Lynch gladly accepts his roll as the borderline offensive genius and injects it in each and everyone of his songs. 1996 marked Stephen's start in mainstream comedy earning two Comedy Central Presents appearances as well as releasing two studio albums and two live albums not including his newly released double-disc album "Lion" in 2012. The infamously hilarious Lynch made national noise with his self explanatory titled song "Special Olympics" and "Craig Christ" shining light on that which isn't publicly laughed at. Nothing is off limits as he provides terribly great content ranging from Nazi's to do-it-yourself remedies for abortion. Shake your head all you want, Stephen Lynch will sing louder and smile wider forcing audiences to ignore their moral compasses and accept his humor.
5.Weird Al Yankovic
At the ripe age of 53, "Weird Al" Yankovic has provided musical parodies for decades and always reminds us of random crap we never would have thought of. The more popular the song the better, for Al will take that song and inject it with random thoughts and nerd concepts that will have you asking yourself, "Why am I laughing at this?" Victims of such parodies range from Michael Jackson's "I'm Bad" revamped to "I'm Fat" as well as Madonna's "Like a Virgin" changed to "Like a Surgeon". Like it or not, Al has been around for ever and wisely changes with the times bringing his humor to his own television shows in the mid-90's and transforming many rap songs into his own "not-so-gangster" renditions. If one of his own songs could personify his legacy as a comedic song writer and actor, it would be the always karaoke'd and never clapped for, "White and Nerdy".