Lifestyle
5 Pieces that Will Help Modernize Your Room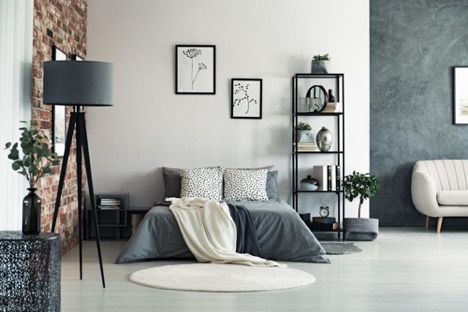 After a long day of work, the last thing you want is to come home to a disorganized, uncomfortable, or outdated bedroom. Your bedroom should be a space where you're able to relax, express your personality and style, and catch those must-needed Zzz's.
If your bedroom is looking a little drab, it's time to invest in your sleeping space and give it the makeover it deserves. Today, we'll discuss five key pieces that can help modernize your room and make it look as if it's from a magazine. Take a look!
1. Area rug
If you have hardwood floors, one great way to add some flair and make your bedroom more modern is with a unique area rug. When searching for an area rug, take your room's dimensions into account to ensure it's not too big or too small. If you plan on placing your rug underneath your bed, it should be at least two to three feet larger than the base.
There are a variety of area rugs you can choose from. However, it's important to keep your room's theme and colors in mind. So, make sure it matches your comforter, wall colors, and any furniture you have. Some types of area rugs you may want to consider include:
Border rugs
Animal print rugs
Chevron rugs
Distressed rugs
Floral rugs
Oriental rugs
Shag rugs
2. Matching furniture
The furniture in your bedroom can make or break the aesthetic. A bed frame made from dark ebony wood, paired with nightstands constructed from metal and drawers made from light oak, will make your room look discombobulated. To create a cohesive, uniform look, make sure your furniture matches. The best way to do so is by shopping from furniture collections that use the same colors and style in their construction.
For example, Hooker furniture has a variety of bedroom furniture themes that can create a modern look in your sleeping sanctuary. Other furniture brands do the same, too. For instance, you can choose from sanctuary furniture that is airy and warm, or vintage furniture that channels your inner retro vibes.
3. Statement pieces
One of the most popular home decor trends is adding statement pieces. Statement pieces break the mold and draw your attention to a certain feature of your room. A statement piece can take any form, such as fine art hanging above your web, or a bright and cheerful desk chair that adds a pop of color to your room.
Some bedroom statement pieces include:
Patterned throw pillows
Custom quilt
Colorful headboard
Vintage Chinese screen
Antique vanity
Neon wall sculpture
Handcrafted clothing trunk
A large floor mirror
These simple pieces can help transform your bedroom into a chic, modern sleeping space that makes you feel at home. It's also a great way to express your creativity and personality with unique touches that portray your style.
4. Plants
Bringing the outdoors in is another great way to modernize your room. Deep green houseplants and springtime flowers not only add a splash of color to your room, but they also have many proven health benefits that can even help you sleep better. For example, plants can purify the air by removing harmful toxins. They can also boost your mood, increase productivity, and help you feel calmer, which can help you fall asleep easier at night.
Some great houseplants you can place on your nightstand, drawer, desk, and floor include:
Snake plants
Spider plants
Fiddle-leaf fig tree
Ferns
Succulents
Philodendron
Devil's ivy
Rubber tree
Jade plant
Lavender
Dracaena
Peace lily
Aloe vera
5. Lights
The lighting in your room can also help modernize your room. Rather than basic ceiling lights that are found in every home, install unique and rare lighting fixtures that make your home stand apart from the rest. Not only can one-of-a-kind lighting fixtures modernize your room, but they can also make your property more attractive if you ever decide to sell.
Examples of unique lighting fixtures include pendant lights that add an industrial and sleek vibe or a floral chandelier above the bed for a more luxurious feel. Other lighting ideas include vintage sconces, tripod floor light, modern pendants, art deco table lamps, and aviation lighting.
Key takeaways
Creating a modernized bedroom doesn't have to be difficult. From unique lighting fixtures to statement pieces, these tips, expressing your style and taste is easy. With these five tips, you'll be on your way to creating a sleeping space that you can't wait to get to every day.