Lifestyle
The Ultimate Decoration Ideas for Thanksgiving

Maintaining proper health and well-being during the holidays is important, especially since this year has been full of changes, some challenges, and quite a few unexpected moments. Many people are still reeling from the impact of the worldwide health crisis. But, there's still a light at the end of the tunnel.
Hopefully something that will bring you joy though, is the upcoming holiday season! With Thanksgiving right around the corner, it is time to get to decorating (that is if you haven't decorated for the Winter Holidays yet). Thanksgiving is a time to be thankful, of course. So, don't skip over this one! We have a few ideas for you to make sure you are displaying your thankfulness this season.
Flowers
By ordering fall flowers from FTD, you can instantly transform any room to be ready for Thanksgiving. They have bouquets, centerpieces, and cornucopias full of flowers, and they are all ready to be delivered to your door! If you are hoping for something that will last you through until the Winter Holidays, FTD also has quite a few plants to choose from as well. Plus, they come in versatile pots that you can decorate to match whatever it is that you will be celebrating! Oh, and don't be afraid to order a gift basket for yourself to munch on while you decorate, or while you prep the Thanksgiving feast.
Hand Turkeys
Ok, we know this may sound silly, but even as adults it is fun to paint your hand, and make it into a turkey on a piece of paper. Once you have made the turkey, you can take a moment to write around it and reflect on the things you are thankful for this year. Once its dry, you can frame it and hang it up during every Thanksgiving season. Make sure you put the year on it so you can reflect on each year's thankfulness! It will be fun to look back and reflect on what you have been thankful for in the past compared to what brings you feelings of thankfulness in the future.
A Letter Board
A letter board from Letterfolk is a great place to display everything you are thankful for if you aren't going the hand turkey route. And since it can quickly be changed, you could even go around the table and have everyone add to it, if you'd like. If everyone puts their words on there, you can take a picture of each person with their word. It will be a great memory to document and share with those that couldn't make it to celebrate with you in person. The boards come in many different sizes and frame colors, but the high-quality materials are used on every item. Don't forget to purchase the extra characters pack, that way you can properly express your love for the Holidays with hearts, exclamations points, and stars.
Plaid Table Runner
A buffalo plaid table runner is festive for the holidays, but can also be used year-round if you want! It isn't exclusively Thanksgiving, especially if you decide to decorate the rest of your table with season specific décor. It will take you from Thanksgiving to Valentine's Day and back to Thanksgiving again, before you know it! And for such a great price point, you are definitely getting the bang for your buck!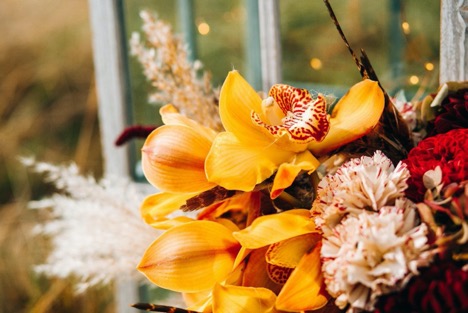 Repurposed Pumpkins
You still have all those pumpkins and gourds from Halloween, so why not give them a second life? By painting them, you can make them Thanksgiving ready with just a few coats of paint. You can go for a traditional Thanksgiving feel, and make them brown, orange, yellow, and red. Or you can go for a more sophisticated color scheme with forest green, gold, white, and burnt orange. If you want to go wild with paint, you can have everyone paint one themselves and write what they are thankful for on the pumpkin. It will also allow you to get rid of them at the end of the night. Win, win!
We hope that no matter what you choose to decorate with, that you are able to surround yourself with the people that you are most thankful for!