Concerts
HARD Day of the Dead 2013 Set Times Released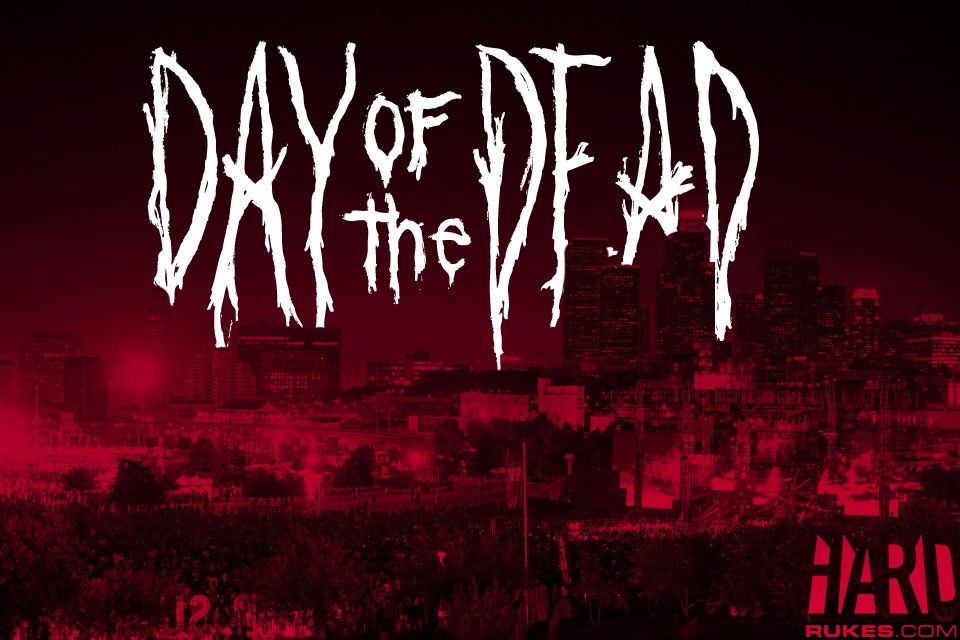 With less than two weeks to go, Destructo aka Gary Richards has released the official HARD Day of the Dead 2013 set times. As always, there are some real tough decisions to make with this year's show. That's just how it goes with any festival.
One thing that sets this festival apart from any other Halloween-themed EDM festival, or any HARD Presents… festival is the fact that this one actually showcases some otherwise hard-to-see and lesser known acts. Artists like Them Jeans, Tokimonsta, Henry Krinkle, and Thee Mike B are just some of the artists that are, unfortunately, most likely under most people's radars this fall.
This increase in lesser-known artists could also create a problem for the festival as a whole, as most attendees will choose to start arriving later in the evening to see the more popular artists (like Skrillex), creating a massive line and an increase in waiting time. Last year, this resulting in complete chaos as concert-goers began literally throwing barricades and trampling over people to get in faster. There was also an incident involving an angry mob tipping over a golf cart on it's way to deliver more water.
Either way, we've taken the time to map out some must-see acts, scheduling surprises, and acts to pass:
HARD Day of the Dead 2013 Must-See Acts
Phuture Doom: This will be Phuture Doom's first live set EVER. No one knows anything about these guys, so it would be a huge opportunity for anyone to get to see the group in the flesh. We predict they'll play their audio book "Phuturism: The Book of Nightfall" for the most part…
Gaslamp Killer: By far one of the most unique artists on the lineup this year, Gaslamp Killer is a must see for multiple reasons. This guy brings an energy to the stage most DJs probably think is a little much. To fans, however, Gaslamp Killer is one of the funnest performers to take the stage anytime, anyplace. Plus, he was the star of the HARD Day of the Dead trailer!
Them Jeans: With his high energy and incredible mixing abilities, Los Angeles based producer Them Jeans is on our list a must-see at this year's Hard Day of the Dead. With multiple remixes of artists like Bloc Party, The XX, and Rihanna, you'll definitely want to catch this artist on the rise before he gets to high!
Baauer b2b RL Grime: Two of the biggest names in trap music right now, Baauer and RL Grime return to LA State Historic Park but this time as a team. This pairing is going to be one of the coolest sets of the entire weekend for seemingly obvious reasons.
Deadmau5: What might seem as an obvious choice, Deadmau5 is our absolutely must-see artist of the entire festival. Playing his first live show in quite sometime, the mau5 will no doubt return with some incredible visuals and will most likely be debuting some of the tracks he's been previewing online.
HARD Day of the Dead 2013 Scheduling Surprises
Nero // Boys Noize // Zeds Dead: It's totally understandable that the main stage would be the hardest (no pun intended) to schedule, but you would think that the minds behind the program would think to at least spread out these acts across a few different stages. The most unfortunate thing is that this stage is going to packed for the entire night, though with good reason.
Paper Diamond // Pretty Lights: This is more of a pleasant surprise, mainly because most attendees will want to see both Pretty Lights and Deadmau5, which would not have been possible if the order had been switched. This could be unfortunate for Paper Diamond, but with such a killer set at this year's HARD Summer, it's possible he'll still have a packed crowd at the HARDer stage.
Cirez D // Bloody Beetroots: Bloody Beetroots not headlining the night? This might be another switch up created so people can see Skrillex.
HARD Day of the Dead 2013 Acts to Pass
Skrillex: Unless you haven't seen Skrillex at any show, festival, tour, or anywhere else, there's really no point in seeing him again. Yes, he's been putting out some new remixes and collaborations, but seriously? Another HARD event with Skrillex as a headliner? Go to Lunice! Go see Master at Work! Skrillex is a great DJ and a fantastic producer, but you can spend your time
Agree? Disagree? Let us know what YOU think on our Facebook page! For more on HARD Day of the Dead, click here.